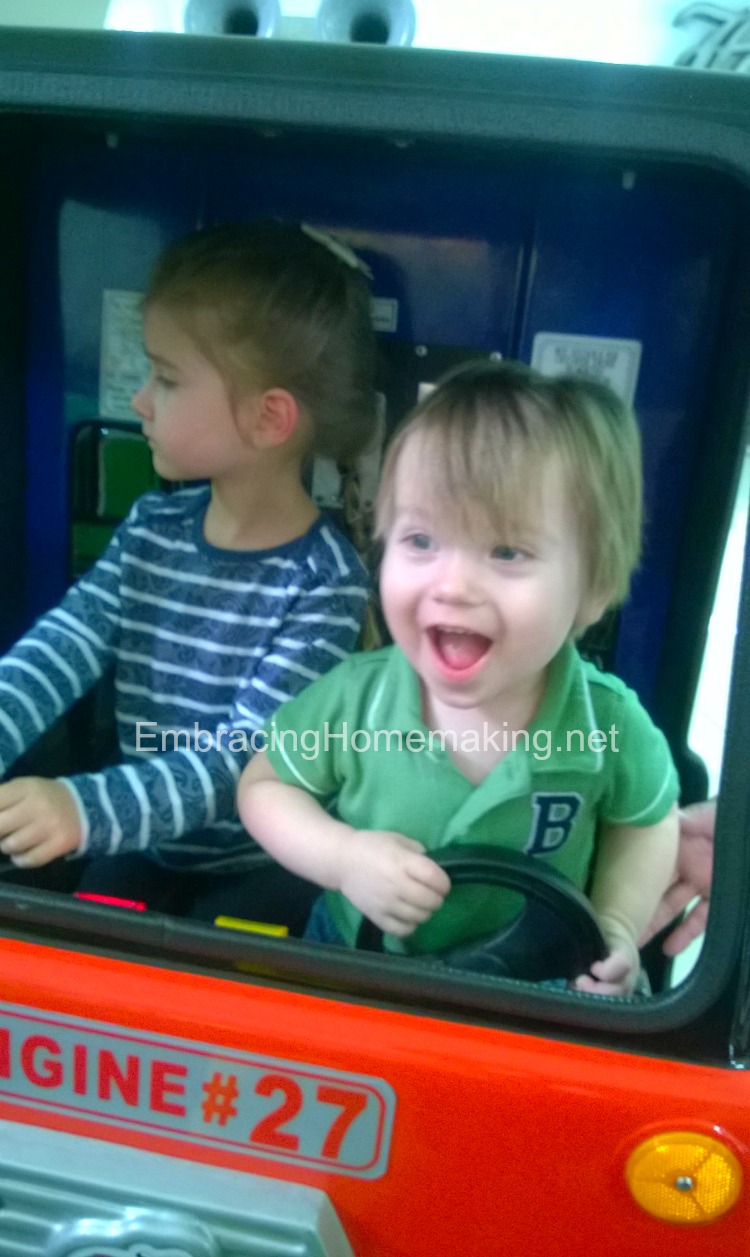 My grandmother and great aunt are visiting me this week.  We've had so much fun together!  I was very close to them when I was growing up and I cherish any time my kids can spend with them.  Oh, how I wish they didn't live so far away!  Today, we all went shopping.  My daughter's favorite part of shopping with my family is the quarter rides.  I never buy the rides for them…because my grandmother taught me better than to waste money on such things…but apparently, she has forgotten this. 🙂  My daughter has enjoyed their generosity for a few years but this was my son's first trip to this store.  Check out his face in this picture!  He's overjoyed and they didn't even add the quarters yet!
I hope my kid's will always be so innocent and enjoy the simple, pure, and little things in life.
I love pure and simple things.  Books.  Sunshine.  Fruit.  Organic food.  We're not a strictly organic family, but I do enjoy knowing that family is eating wholesomely. I heard about Sprout's Organic Food years ago before I had kids and checked into it.  From what I read I was hooked.  Natural, pure, ingredients.  I wanted this for my kids.  Today we were running low on baby food so I headed to Harris Teeter to grab some more Sprout pouches.  Harris Teeter is one of Sprout's retailers, so if you head out to Wal-Mart you sadly won't find it there. It's worth the special trip for me because 1) Harris Teeter has amazing sushi and 2) because caring for my family is essential.  Besides, their shopping cards are a-maz-ing!  Build in cup holders – you know they added those for moms who are juggling multiple kids while simultaneously sipping something caffeinated, shopping, and preparing a week's worth of menus in her head!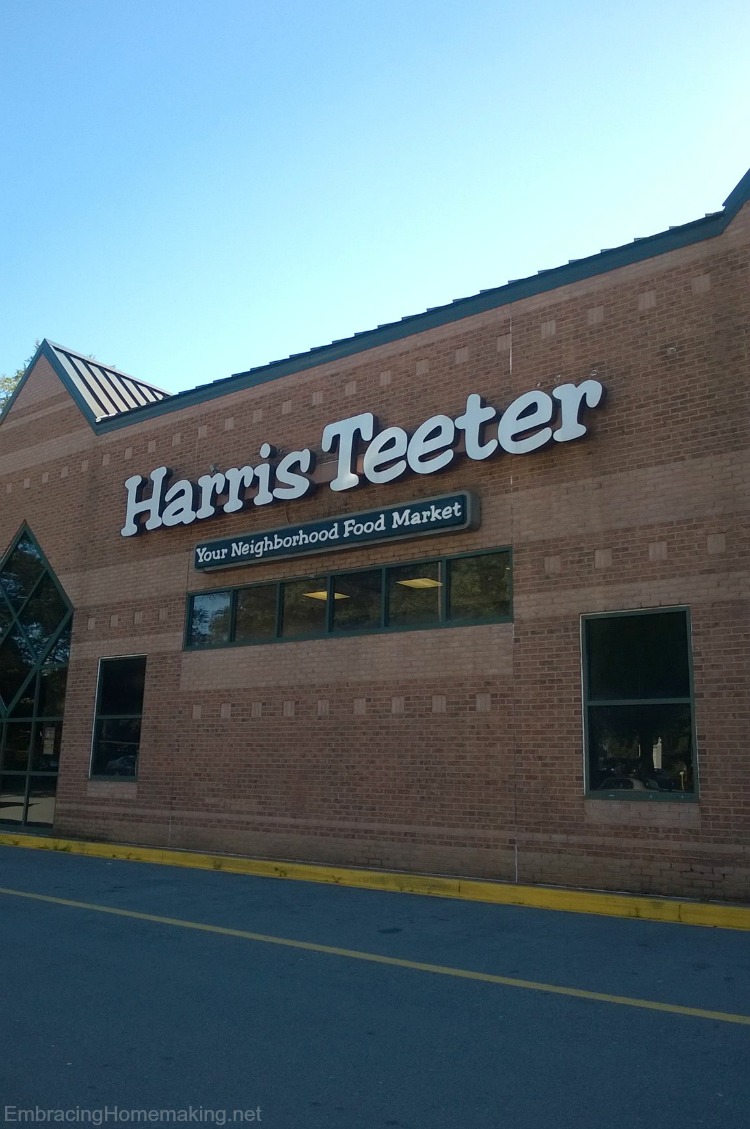 I went to the baby food section and found my favorite baby food there…the holy grail of baby food, some might say.  It was easy to locate.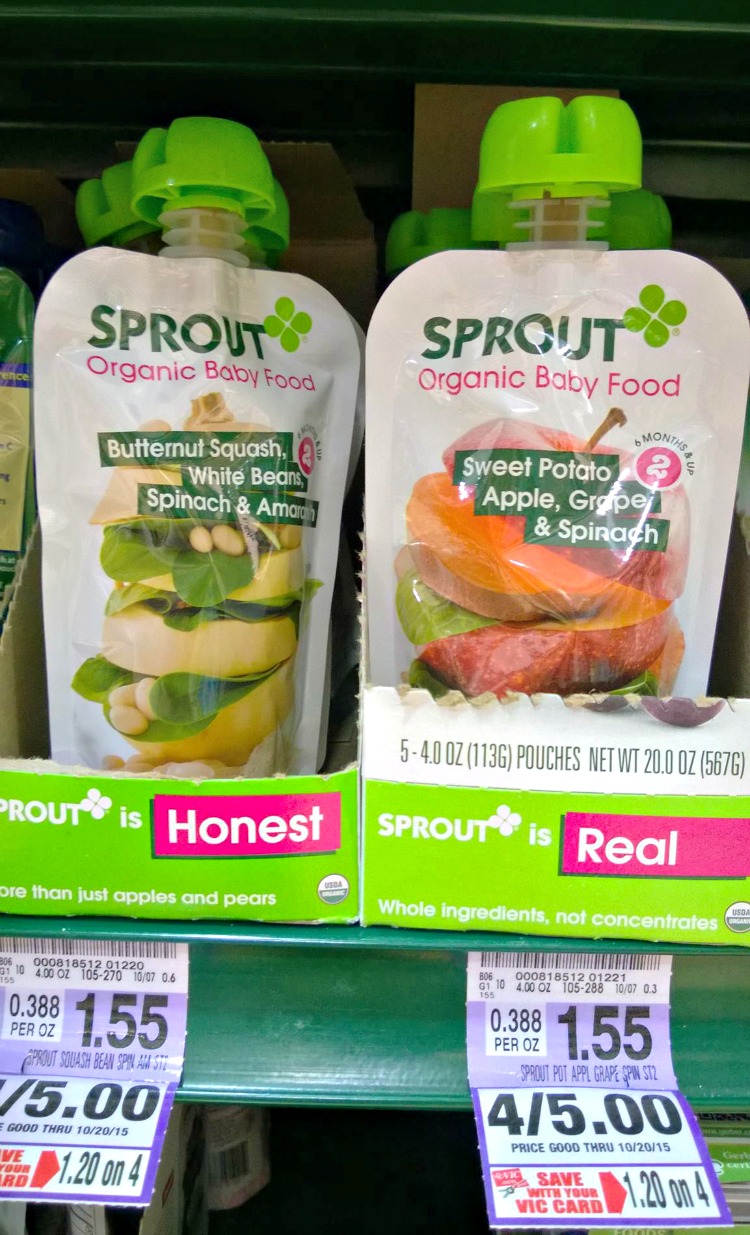 Sprout touts (did you like that intentional rhyme?) USDA certified organic ingredients and non GMO. The flavor names are honest because they actually match the ingredients lists. Shocker. And it's the only baby and toddler food brand that doesn't use acid preservatives that can upset baby's system.  Which is huge for me since my sweet son is allergic to so much and I don't want food to adversely affect him in any way. Also, A biggie for me – the packaging is free from BPA. I hate the stuff.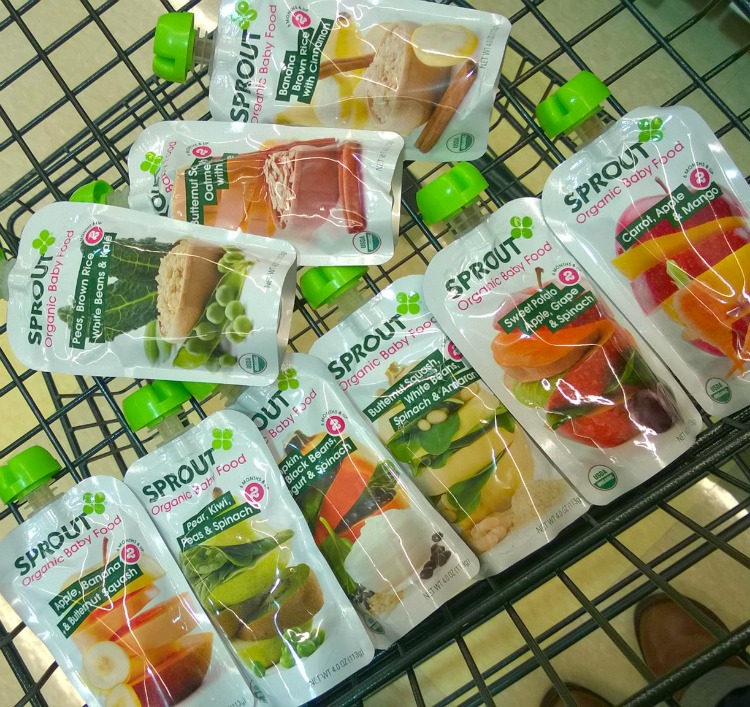 This is a sponsored conversation written by me on behalf of Sprout® Organic Baby Foods. The opinions and text are all mine.