This is a sponsored post written by me on behalf of Liberty Mutual Insurance for IZEA. All opinions are 100% mine.
Have you ever bid on something on eBay only to have someone swoop in at the last second and outbid you?  I've been there many times and I hate it when that happens!  Now, with Liberty Mutual Insurance eBay Bid Protection, you might get a second chance at that lost item!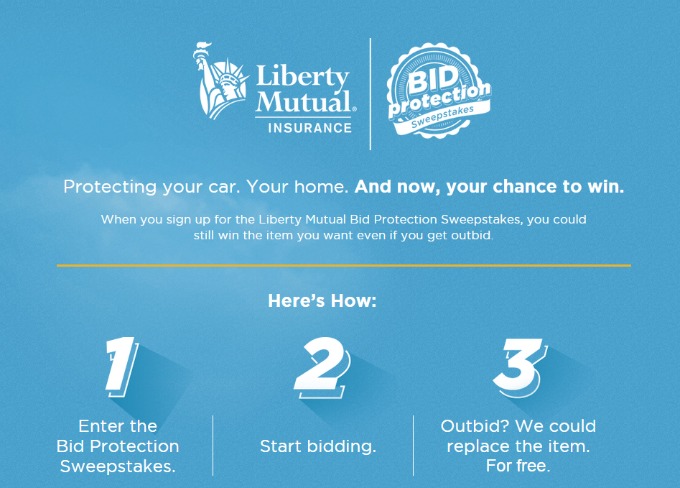 I've been outbid before.  I spent time searching for that rare item and researched a good and fair price to offer.  I placed my starting bid, not too high but not too low.  Hours go by and no one bids against me.  I wait, and wait, and wait.  With only a few minutes to go I refresh the page frantically.  I have a second tab open in case I need to raise my bid.  It has my max bid typed in and ready to go.  Refresh, refresh.  I think to myself, "Yes, I've got this!"  With two seconds remaining someone out-bid me.  I scramble to submit my highest bid but it's too late.  I see the "You've Been Outbid" notice.  Ahhh, so much time wasted!
If you're an eBay shopper, I'm sure you've been there too.  It's disappointing.  Wouldn't it be great to get a second chance at that eBay auction you lost and have that possession you had your sights set on?  Yes, I think so!  Well, with Liberty Mutual Bid Protection Sweepstakes you can enter a sweepstakes to win an item that you were outbid on!
This sweepstakes covers items that are in the Cars & Trucks and Home & Garden categories of the eBay marketplace.  You could win a CAR!!!
Here's how you can enter:
– First, go register!  Easy peasy.

– Then, anytime you place a losing bid on an item in the Cars & Trucks or Home & Garden categories between $500 and $1000, you are automatically entered!
This sweepstakes ends September 1, 2015 so you have plenty of time to browse around and enter!  Happy Shopping!
* Eligible entries are losing bids in the cars & trucks category between $15,000 and $30,000 placed by June 15, 2015, as well as any other losing bids on items in the cars and trucks or home & garden categories between $500 and $1,000 placed by September 1, 2015.