I've been in love with LeapFrog products since I've had kids.  The LeapFrog brand helps kids learn in a fun environment without them even realizing they're learning.  On the Christmas list that I made for my daughter I had a LeapPad at the very top.  LeapFrog gave me a LeapPad for my daughter to review and I'm excited to share our experiences.
The LeapFrog LeapPad3 Kids' Learning Tablet is available in two colors: Green and Pink.
Price: $99.95 on Amazon (Currently the green one is on sale for $89.59 and the pink one for $86.96!)
Description: (Ages 3-9 years)
Fast, powerful processor and sleek new design
Works with 1,000+ educator-approved* games & apps
Kid-safe web access to age-appropriate experiences
Personalizes the learning to every child**
Built kid-tough and drop tested for worry-free fun
Rechargeable lithium ion battery
Discover exciting experiences and thrilling adventures with LeapPad3 from LeapFrog, makers of the #1 kids' learning tablets.† LeapPad3 is a fast, high-performance, fun-packed Wi-Fi tablet that allows kids to learn and play in a way that's just right for them. Compact and kid-tough, the LeapPad3 tablet provides access to a 100% kid-perfect web experience and access to a library of 1,000+ age-appropriate, educator-approved* games, apps, eBooks, videos and more. LeapPad3 features LeapFrog's powerful new quad-core chip and a sleek and beautiful design, for fast-action fun kids love.
LeapPad3 is the high-performance, fun-packed Wi-Fi tablet that allows kids to learn and play in a way that's just right for them. Ages 3-9.
Access the most engaging learning library for kids' tablets, with 1,000+ educator-approved games, apps, eBooks, videos and more. (Sold separately.)
>With Wi-Fi and LeapSearch powered by Zui, children can explore kid-friendly web content that is 100% pre-screened and approved by learning experts.
Features a lithium ion rechargeable battery, 4GB memory, parent controls, light-touch capacitive screen, two cameras and video recorders, and more.
Includes 10 apps: Photo Fun Ultra, Pet Pad Party game, Pet Chat, choice of 1 app download, Utility Suite and more.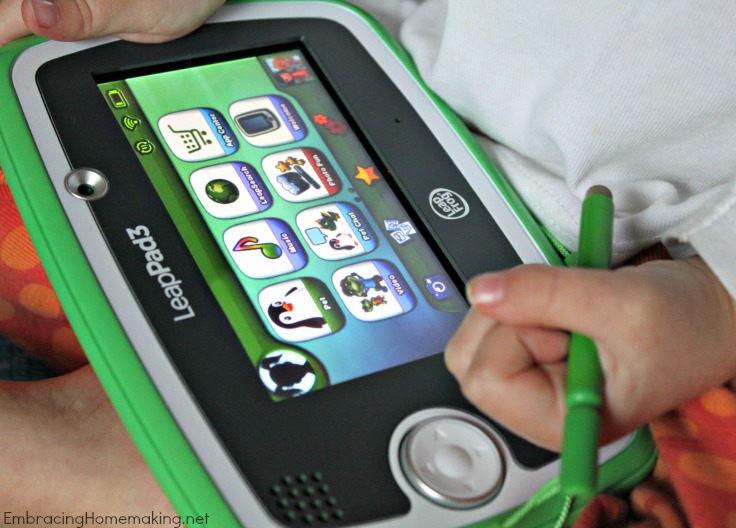 My Daughter's Review:
She LOVES it!  She calls it her iPad.  It has built in apps, games, camera, photo lab to distort pictures, educational music, and so much more!  She loves that it comes with her very own stylus, or pen as she calls it, so that she doesn't have to search for one of mine.  LeapFrog knows that they're doing and they attached the stylus.  Well done!
It's very light weight which is great for my three year old but it's also built tough which is also perfect for little hands.  I like that it's personalized for my daughter, it even has her name at the top of the main screen.  The touch screen is quick and easy to use.
I could go on and on naming a ton of little things that I like about it but best of all, I like that it helps her learn!  The apps, games, and videos are all educational – at least the ones I've tried.  Right now she's working on her writing, reinforcing her letter sounds and learning letter blends.  Besides the camera, her favorite thing about her LeapPad is the LeapFrog Letter Factory video.  I've watched it with her before and it's quite a cute video with catchy songs to help her really absorb the material and make learning fun.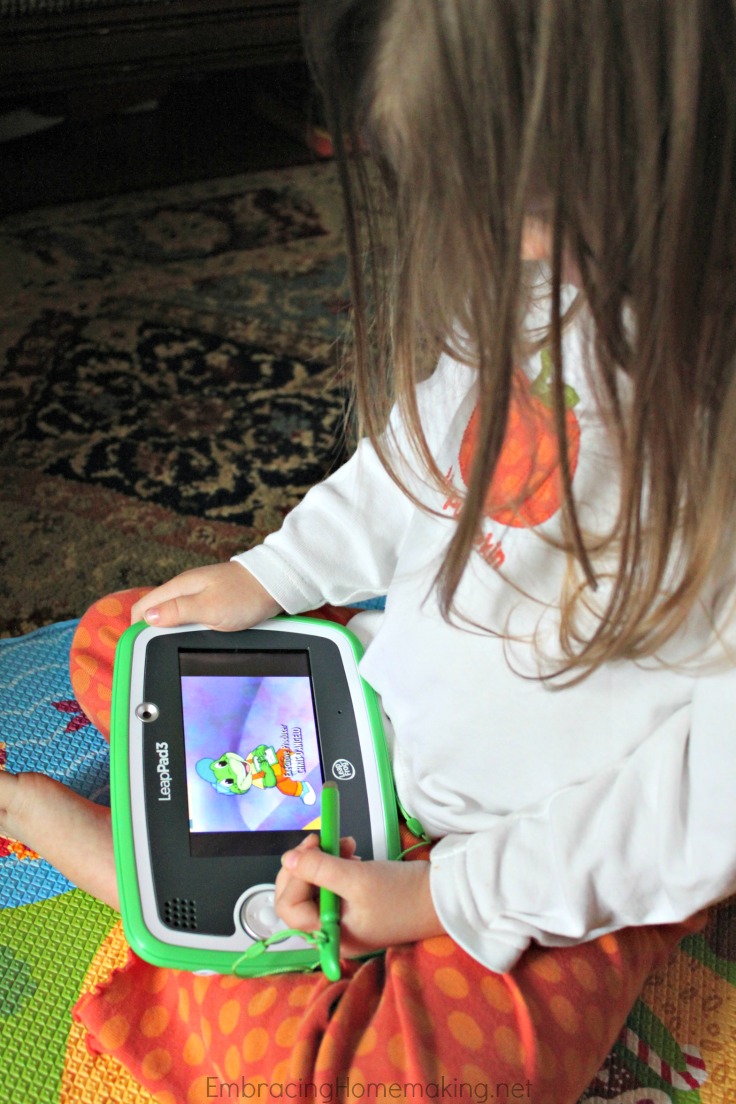 The battery lasts for 6 hours of continuous use but we don't use technology for extended periods of time so it lasts and lasts for us.  I'm excited to add yet another fun LeapFrog learning tool to our assortment of homeschooling supplies!
If you have a LeapPad, what's your child's favorite game?