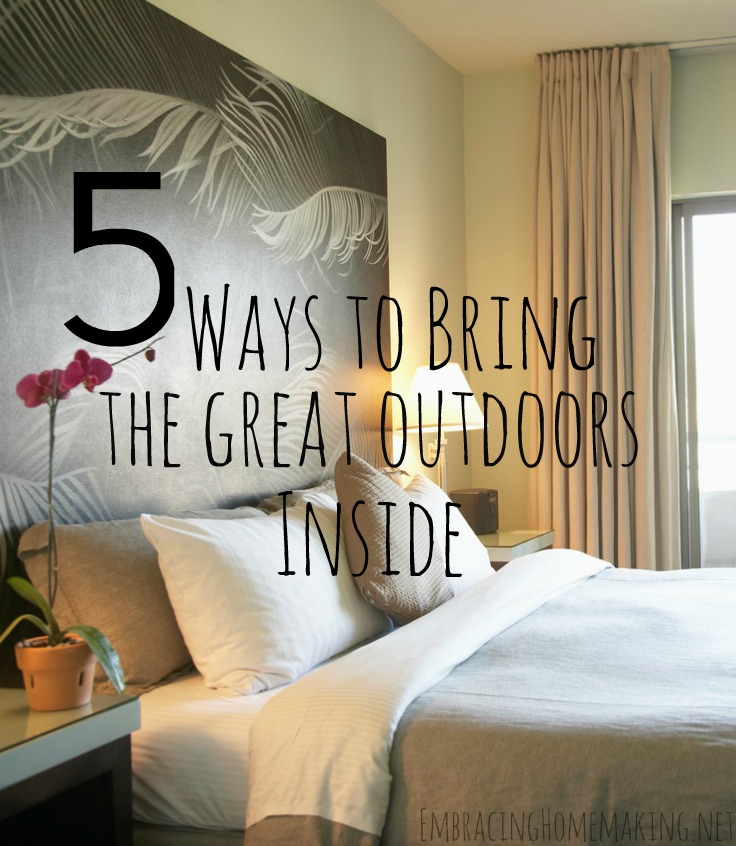 Spending time outdoors is incredibly good for the body; this should come as no surprise. It's relaxing, and getting a little bit of sun and fresh air can brighten one's mood.
But sometimes, spending a lot of time outside just can't happen. Perhaps your job requires you sitting inside on your computer for several hours on end, or maybe it's simply too hot to be outside without sweating up a storm.
Fortunately, there are simple and inexpensive ways to bring the great outdoors inside, and reap some of the same relaxing benefits.
Find plants for inside your home
Some people (namely those who don't have much of a green thumb) are put off by the idea of trying to keep a plant alive inside their home. A refreshingly beautiful plant can truly breathe life into a home, but a dying plant can make an incredible mess that just isn't worth the hassle in the long run. Fortunately, there are plenty of houseplants that don't require radical knowledge of greenery to maintain, like grape ivy and the snake plant.
So pick a few locations in your home that would look best with added shrubbery­ perhaps a windowless bathroom or a barren corner in a living room. Besides the fact that plants can make your house look and feel cozier, they can also help purify your air, and who wouldn't want that?
Open those windows
Opening windows is the easiest way to bring the great outdoors inside, but with summertime heat still going strong, cutting off the air conditioning may not sound all that pleasing. Consider installing an attic fan if you're concerned with cooling off your home, but would like to cut down on your electricity bill. When installed correctly, an attic fan can pull in an immense amount of air, allowing you to keep your windows open without sweating to death.
Also, if you're going to open up your windows, make sure you have efficient window screens, or you'll find yourself with a bug problem and a little more nature inside your home than you originally bargained for.
DIY your space the au naturel way
Why go buy a wooden mirror when you can make one yourself? Find an inexpensive mirror from a thrift store or antique store, and gather some materials from around your house, like sticks, leaves, and pinecones. Glue your findings around the mirror, and you've got yourself a cute and cost­efficient way to bring the great outdoors into your home. If you live in a place where driftwood is aplenty, utilize it. Hang a piece of driftwood from the ceiling, and then hang light fixtures from the driftwood. It'll be a unique piece for you to enjoy without having to spend too much money.
Bring sounds of the outdoors into your home
Are those nature sounds CDs a little cheesy? Maybe. But don't knock it until you try it. Incorporating sounds of singing birds or chirping grasshoppers can be surprisingly soothing for days that you want to sit inside reading a good book or for when you and your friends are sitting around the living room sipping wine.
If you have a Roku player, you can pull up Pandora, select a nature sounds playlist, and stream it directly through your television. But if you want to be more discreet about it, you can play a nature sounds CD on a CD player hidden behind some furniture.
Install natural flooring
Bring nature indoors by getting rid of your drab, stain-soaking carpet, and opting for natural flooring like bamboo. Bamboo flooring can liven up a space, and there are plenty of options to choose from. But the best part? There's no need to feel bad about installing bamboo flooring, because bamboo can produce new shoots without the need for replanting. This way, you're not destroying nature for the sake of making your home look nice. Bamboo can also be used in a number of other ways, from bamboo shades that still let in some natural light or tall bamboo sticks in a large porcelain vase in the corner of a common room.
Once you have your home feeling nice and cozy, sit back and enjoy it. Maybe even light a nature ­scented candle or two.