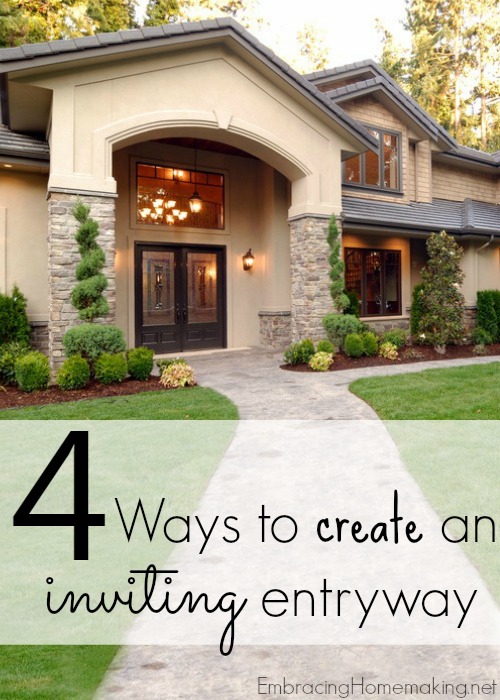 For the next few days I want to discuss the first thing people notice when they come to your home – your porch and entryway.
Today, let's briefly discuss your entryway. What does it look like?  Is it warm and welcoming or is there a pile of shoes you must first hurdle to come inside?  Is it a cluttered mess or neat and tidy?
Mine, unfortunately, is more toward the cluttered side and it drives me crazy.  It's the place where there is always a tree coat about to topple over with coats (even in the summer), a few pairs of shoes, at least one box that came in the mail, and probably a few misplaced toys that somehow made their home on the unopened packages.  I'm tired of it and I'm ready to change that!
An entryway is one of the first things people look at when they come to a home.  It sets the tone for their visit and whether we like it or not, people do judge a book by it's cover.  Let's make that cover an inviting and hospitable one!
I've cut down on the coats, cleared the shoes, opened the package and whisked the box off to our recycling bin, and returned the toys to their rightful homes.  That was a quick 5-10 minute job.  In the near future, I want to paint our front door….and if I can convince my husband to help out one Saturday, I'd love to paint our entryway.  We've held off on painting it because it leads to our stairwell which is insanely high and we could never paint it by ourselves.  But that's another story.  Besides a fresh coat of paint, I need to find a permanent shoe storage solution.  I want to keep the majority of our shoes upstairs in our closets and the ones we wear regularly I would like to stay downstairs.  I'll be on the look out for a cute table with doors at the bottom where we could store shoes out of sight.
I've been toying with the idea of taking our shoes off when we come in the house?  Do you do that?  I've never done it before but as much as I dislike dirty floors I think I might give it a try.  Plus, this way it will be easy to keep track of my toddler's shoes and the floor will be a little bit cleaner for my little boy who is army crawling his way around.
4 Ways to Create an Inviting Entryway:
Clear – Clear the clutter.  Toss, donate, or find a home for everything in your entryway.
Clean – Clean your entryway floors, walls, & windows.  If it's something you'll see when you first walk in your home, wipe it down.
Collect – Create a place to collect your items that need to be stored in the entryway.  Find a basket for shoes, a hook for keys, a rack for coats, etc.
Color – Color your space.  Add a coat of paint or maybe a few picture frames to make your front entryway welcoming.
My challenge to you today is, take a look at your entryway and see if it's inviting.  Does it say, "Welcome, we're glad you're here?"  If not, what are some simple changes you can make?  If you're unsure, decluttering and cleaning is a great place to start.