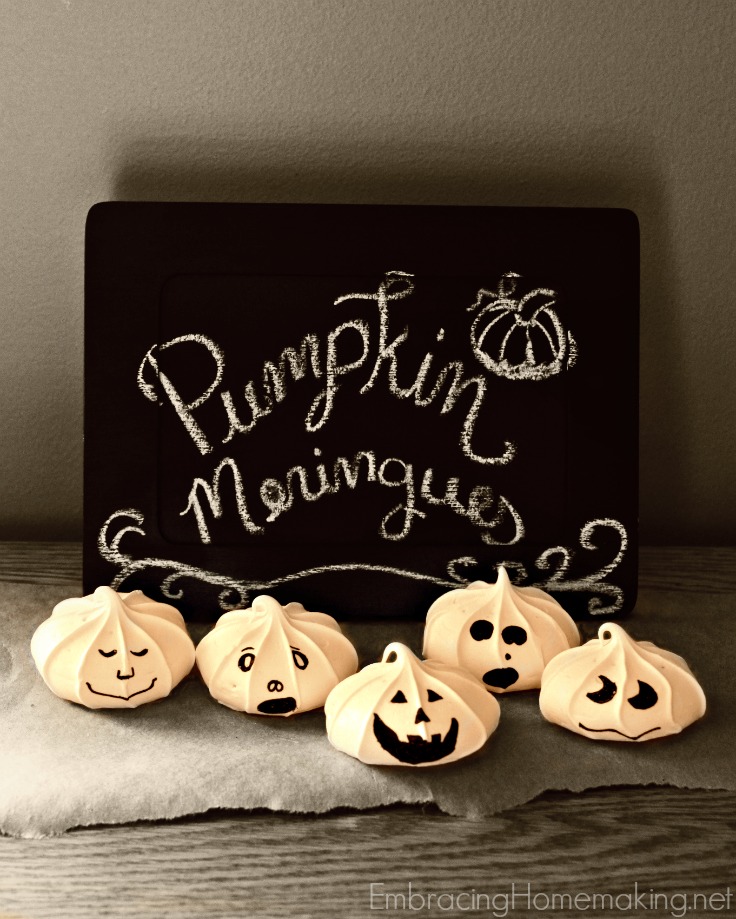 Ingredients:
4 large egg whites (120 grams)
1/2 teaspoon cream of tartar
1 cup (200 grams) superfine or caster sugar (if you don't have superfine sugar simply take 1 cup (200 grams) granulated white sugar and process it for about 30 seconds in a food processor)
1/2 teaspoon pure vanilla extract
gel orange food coloring
(If you want these to actually taste like pumpkin you can carefully fold 1/4 cup of pure pumpkin purée after you've mixed the other ingredients.)
Instructions:
Preheat oven to 200 degrees and move your rack to the middle of your oven.
Using the wish attachment on an electric mixer wisk the egg whites on a low-medium speed until foamy. Next add the cream of tartar and keep mixing until they hold soft peaks when you turn off and remove the wisks.  Add the sugar a little at a time until the meringue holds very stiff peaks.  Now add in the vanilla extract and gel food coloring with a toothpick.  Remember a little goes a long way and you can't take it back but you can always add more.
Feel a little bit of the meringue between your fingers to see if it feels gritty.  Keep beating it until all the sugar dissolves and it no longer feels gritty.
Grab a cookie sheet and cover it with parchment paper.  Dab a little meringue in each corner of the cookie sheet under the parchment paper.  This will help hold it in place while you pipe.  Add your meringue to a pastry bag fitted with your star tip.
While holding the bag straight up and down, use even pressure to pipe about a two inch round pumpkin, release pressure and gently raise.
Bake the meringues for approximately one hour to one and a half hours.  They should be crisp to the touch.  Then turn off the oven, open the door and allow them to finish trying in there for several hours (I choose overnight because it's easier with kids).
After several hours (or many hours the next day) draw your pumpkin faces using a Wilton's edible marker.  With a little patience and a steady hand you can't go wrong!
These will last several days when stored at room temperature in a closed container. This recipes makes 20-25 pumpkins depending on how generous you are with your piping.  Enjoy!
Party Time! This is my first of many, many, many Inspiring Monday link ups and I'm excited to have you here!Ready to Party?
Before we start, please keep in mind:
– It's nice to socialize with other party guests.
– Link up all of your inspiring posts that you've written on YOUR blog. Recipes, crafts, printables, DIY, and homemaking posts are welcome. Please don't link to Etsy stores, giveaways, etc.
– By linking up to Inspiring Monday you are giving Embracing Homemaking permission to feature your project and/or photos on our social media outlets and blogs to help promote your post.
Let's party!