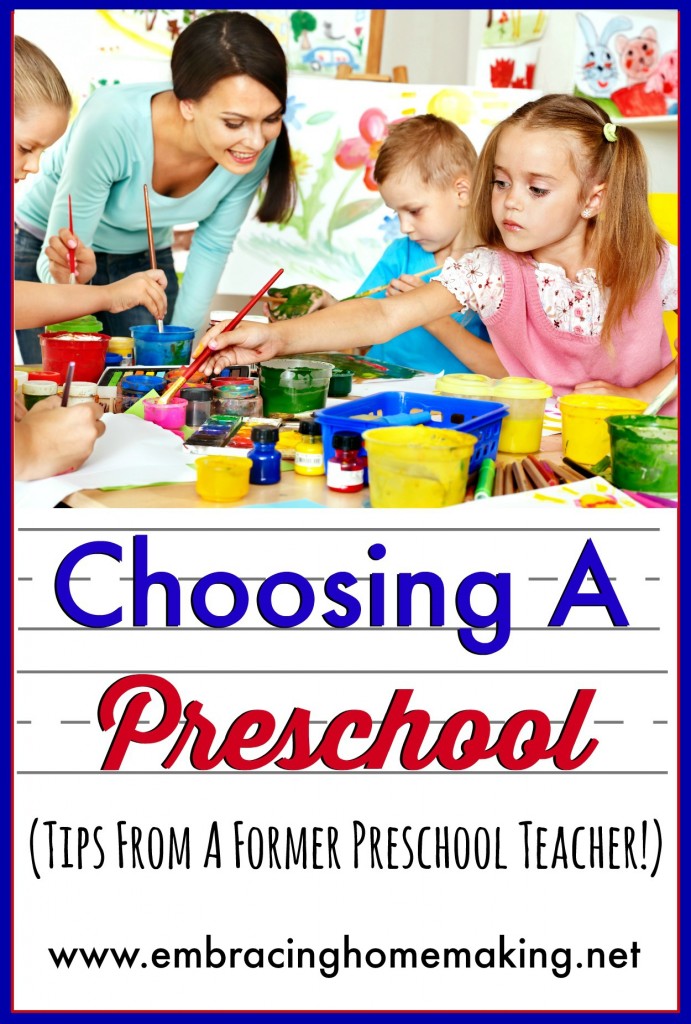 This post is written from a friend of mine and her desire is that this post will help calm the fears of parents who are anxious about choosing the right preschool for their kids.  I hope this will be a blessing to you!
Early childhood education is so important! Preschoolers learn so much from their alphabet to site words, counting to basic addition and subtraction, and so much more all while having a ball! Preschool prepares your child for school not only from an educational standpoint, but from a social standpoint as well! Children understand things such as classroom responsibilities, centers, sharing, making new friends, leaving Mom and Dad for the day, and talking in front of a group.
But choosing the right preschool can be intimidating! As a former preschool teacher, here are 5 things I would recommend asking and looking at to help you make your decision!
Each state has a set guideline of how many students are allowed to be with a teacher. Make sure you know it! But also, ask about if the center ever has to shift kids from one class to another and how often they do this!Shifting kids simply means moving them from one class to another to keep the room in ratio. While there are some times that it is appropriate (for example, in the early morning or in the late afternoon close to drop off), if the center regularly has to shift children in the middle of the day or for the whole day it may be a problem. That means the school is either over crowded or understaffed. And it also could mean that your child is missing out on fun things and learning time in their classroom!Also ask, when they have to have kids 'visit' other classrooms are they moved up or moved down. Some schools say if you have to shift kids around they move to an older class (for example, a 4 year old would move up with 5 year olds) and some school doesn't have a set rule. This is important for the older children because you don't want your child bored! But it's especially important if you are choosing a child care center and have an infant or toddler.If you ask the director about shifting, I would also ask the teacher. Making sure you get consistent answers is key. You want to trust the communication that you are getting from your child's potential school!
One of my favorite things to do with the kids when I was a teacher was art! We made all kinds of great things and there was always a project going on. Check out the artwork in the classrooms you are touring. Is there artwork? There should be! And it should be on display!Art projects are more than just cute items for Moms to swoon over! Art teaches fine motor skills, creativity, problem solving and a sense of success! A good teacher will make sure that art is available to the children. They will also let the children do the projects, NOT do it for them! Ask the teacher about the art process. Do kids get to pick out their own colors? Do they cut out shapes by themselves? Are they allowed to create freely?
Most classrooms have what are called centers. There is typically an area for blocks, art, science, library and a pretending area. Ask if all of the centers are available to be played in each day. The kids would flock to areas like pretending and the sensory bin each day. But I know quite a few teachers who would 'close' these centers – regularly. They were simply too messy to clean up. Ask to find out if the classroom you are touring does this!
Also look for things at the art center. Are the kids allowed to paint or play with play-doh? Or are they only allowed to do it on special occasions? Some classrooms don't let the children use these tools unless it's on that day's plans.Their library is also a good place to check. Does the teacher put the "good books" up in a place where the kids can't get to them? Are there enough books in the library?Chose a preschool where the kids are free to learn and play!
– Ask For a Copy of the Lesson Plans – Each Week!
I think it's an excellent idea to ask for a copy of a sample of the lesson plan before you choose a preschool. You can look at the lesson plan and while you are touring look to see that lesson plan in action! Once you choose a school, keep an eye on the lesson plan!Teachers are expected usually to turn in lesson plans and supply lists weeks if not a month in advance. Sometimes things happen and plans change. But if you notice quite a few activities being cancelled make sure to ask! It could be that the teacher is not doing them or they did not get the supplies. Either way, you are paying each week for your child to be there and to learn! It is the school's responsibility to make sure that the teachers have their supplies to do that! And the teacher's responsibility to follow through with those lesson plans.You also want to be sure that your child is there learning! While playing is important and children learn through play, you want to make sure they are reader for Kindergarten and know their ABC's, how to tie their shoes and counting.
Ask to come in one day and observe! I loved when parent's would ask to come in! It gave my students a chance to show off what they learned and for me to show off how great of a class I had! We had fun and learned so much. I wanted people to see that! While you are there you can see how the teacher interacts with the kids and the kids will be more than excited to spill all the beans about their day at school! If the kids are having fun, safe and happy then you know you can feel confident your child will too!
I fully believe that every child should experience some sort of early childhood education, either at home or at a formal preschool, before heading off to kindergarten! Chose a school that you and your child feel comfortable with and be prepared to be amazed at how much your child will learn!