Hello!  This post is written by my sweet husband and I hope you'll enjoy it!  I'm turning it over to him now…
We were recently given the opportunity to review a new item from one of our very favorite companies, ThermoWorks, best known as the makers of the Thermapen digital food thermometer.  (See our Thermapen review)  The latest gadget they sent to us doesn't have anything to do with food temperatures, or temperature at all for that matter. With the brand new TimeStick, ThermoWorks has branched out into another metric altogether–time. They have, however, kept the focus in the kitchen. The TimeStick is a very kitchen/cooking friendly clock/timer.
When the reps at ThermoWorks sent us TimeSticks to review, they knew they had a hit on their hands and sent us two because they predicted we wouldn't want to share! And they were wise to do so because the TimeSticks have become a very popular item in our kitchen.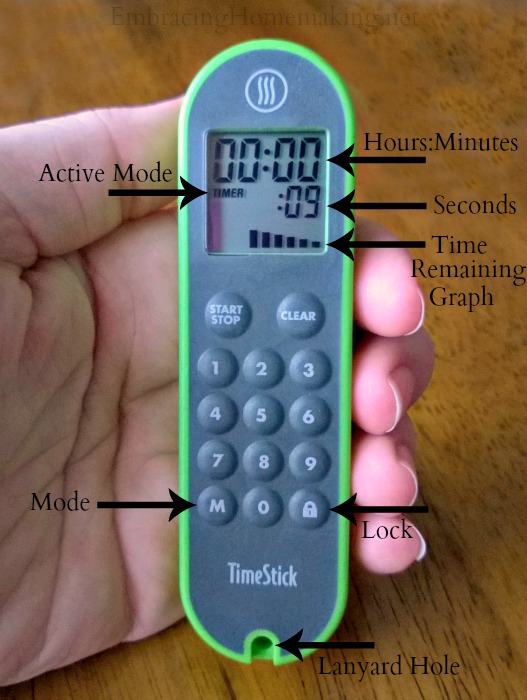 Pros & Cons:
What do we love about them? Many things. For starters, this timer is incredibly easy to use. They advertise the TimeStick saying to glance over the directions once and then just throw them away because you don't really need them to begin with. The keypad is minimal: numbers to enter times; a start/stop button for the timer; a clear button to, well…clear, a mode button to switch between the clock and the timer (one mode for countdown and one for count up); and a lock button to keep yourself from accidentally resetting something. That's it. The only other thing to keep up with is the 12/24 hour clock option on the back which you'd probably just set how you want it and never have to use again. There are separate modes for count up and count down, but also in countdown mode, after the beep sounds indicating the set time has elapsed, the timer automatically begins count up mode, allowing you to not only be notified of the time being done but letting you know how much additional time has transpired. So if you are distracted by your kids while baking you can say, "I burned my cookies by X minutes and X seconds." Seriously, though, this is a nice feature found in many timers and I'm glad they added it to this awesome timer as well.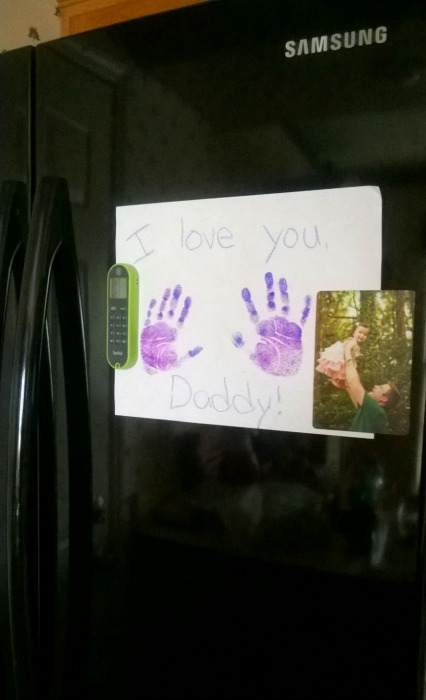 Ease of use is a must for any timer for me (I've had several, won't mention any names) but they just aren't as intuitive going from mode to mode or the buttons are hard to press down, etc.  The next thing we love about the TimeStick is the size. It is small and skinny, making it perfect for one-hand use and sized small enough to fit in a chef coat pocket. And this is meant for kitchen use so it is also splash-proof. It comes with a handy detachable lanyard so you can walk around with it and it also has a magnet on the back to attach to a metal surface. Our old kitchen timer, like many, only really worked to set it on a countertop and that was the only option. We also like the magnet because it is handy to just store it on the fridge and know right where it is (not to mention you can always use the magnet to hang up a child's artwork!). They also come in 9 different colors so you are bound to find one that fits your style. Another unique feature I like is the bar graph that works in countdown mode. It's a nice way to see, at a quick glance, what proportion of the set time remains. The final pro is also my only con…the sound. It is nice to have a timer that has a loud sound to hear in a busy kitchen or with a two-year-old in the room and it does have that. I concede it's also nice having a timer that beeps when you press a button to confirm that you pressed the button correctly, but my only con (which I have with many products but likely isn't a con for most people) is that there isn't a way to turn the beeper off when pressing buttons. Loud beeps upset our dog and that is really the only reason we like products to have beeping optional but, dog aside, it's not something that would bother me.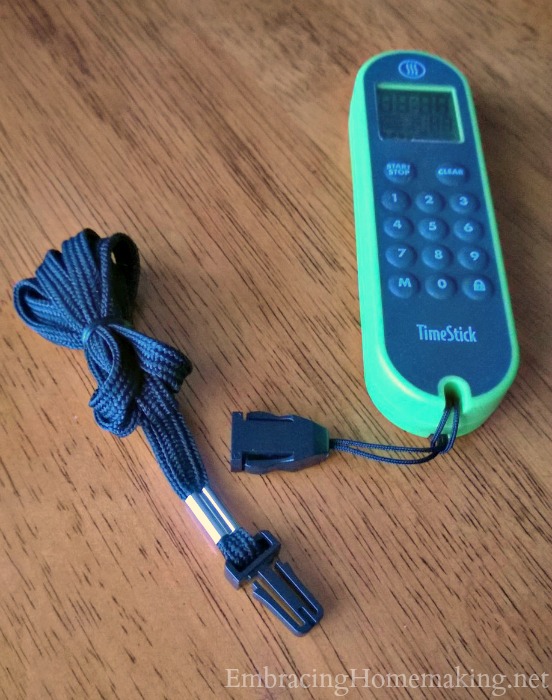 SALE!
Best news of all is that they are running a TimeStick sale and until midnight, March 6 these timers are only $19 a piece (regularly $25)! The battery, a CR2032, is included and is estimated to last 10,000 hours with typical use. So if you want one, and you do, then you'll want to get one soon! Buy a couple and keep them on hand for gifts. I think it would make a very nice and unique wedding, birthday, or Christmas gift for a cook in your family, and you could get some cheap now and get a leg up on your shopping through the year.  Go here to ThermoWorks to check it out for yourself.