The finale of NBC's The Office series aired last night.  Did you watch it?  With tear filled eyes I watched the while the show wrapped up every single character's story.  The final episode did a wonderful job of honoring the series and the characters while giving us an emotional ride as we watched the characters we've loved for so long drift apart in their own directions.
I haven't watched The Office for the entire 9 years it has aired but my husband got me hooked somewhere around 5 years ago.  It's amazing how we can get attached to TV characters, isn't it?  This is the first series finale that I've ever seen because I usually just watch reruns or the current shows I'm watching get cancelled.  I was emotionally invested in this show, embarrassingly so!  I cried at Jim and Pam's engagement and again at their wedding.
Pam Beasley-Halpert wrapped up the finale well by saying,
"I think an ordinary paper company like Dunder-Mifflin was a great subject for a documentary. There's a lot of beauty in ordinary things. Isn't that kind of the point?"
Isn't that great?  I especially love the last part – "There's a lot of beauty in ordinary things."  There is so much truth in that!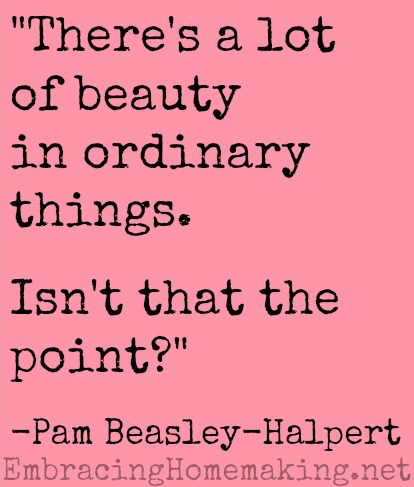 If you were a fan of The Office what did you think of the finale?  Did you have something in your eye the entire episode as I did?  Or did you not care for the final episode of The Office?  What will you miss most about The Office?