My kids are alike me in so many ways.  Some good and some bad but I like to focus on the good.
One thing that the three of us love are our daily smoothies.  None of us are morning people so smoothies have to be a mid-day snack instead.  My kids are always eager to try my latest concoctions, and I'm more than pleased to see my ridiculously finicky 2-year-old happily drinking a nutritious snack.  We go to eating therapy once a week and I tell ya, some days the most nutrients he gets are from those smoothies!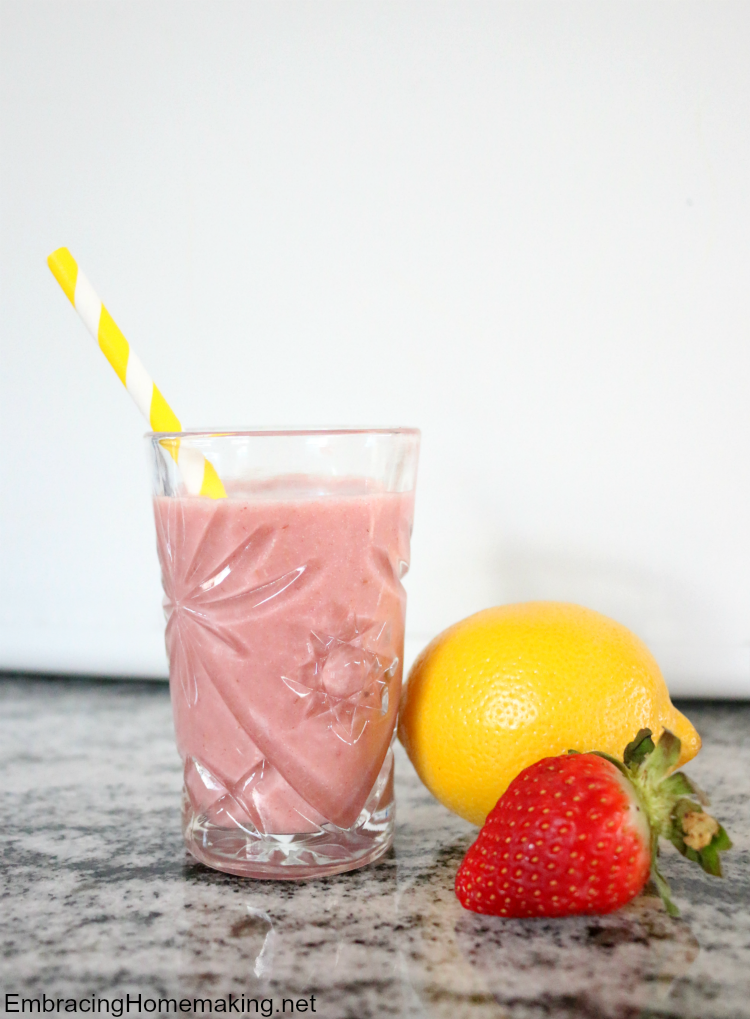 Smoothies are a sweet and delicious treat that's great for kids of all ages!  Instead of ice cream or candy, smoothies are our go to treat around here.  Sometimes something more indulgent is needed like frozen yogurt with five different toppings but most days, a smoothie hits the sweet spot!  Especially when your smoothie is chock-full of strawberries and lemons!!
Strawberry lemonade is the go-to drink of summer, right?  Who says it can't be enjoyed all year long?  Who says you can't throw in some cashews and dates to kick the flavor and nutrition up a notch?  That's what I do in my family's favorite Strawberry Lemonade Recipe and I hope you'll give it a try!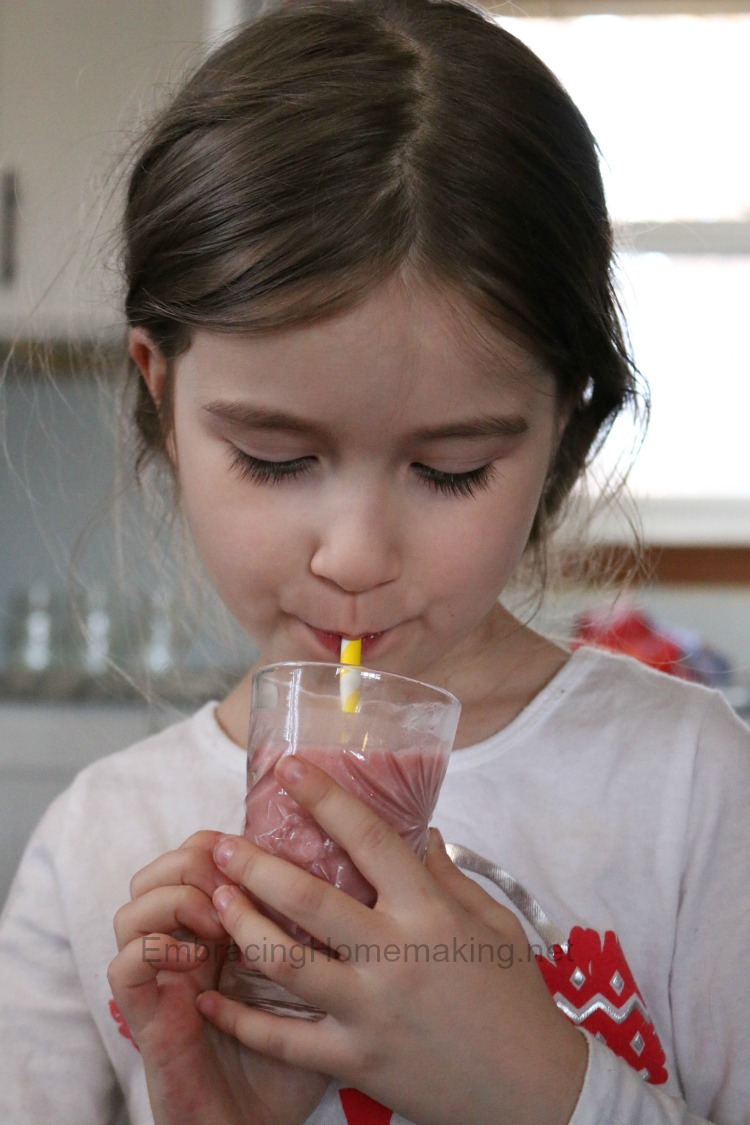 Who needs candy when you can have smoothies?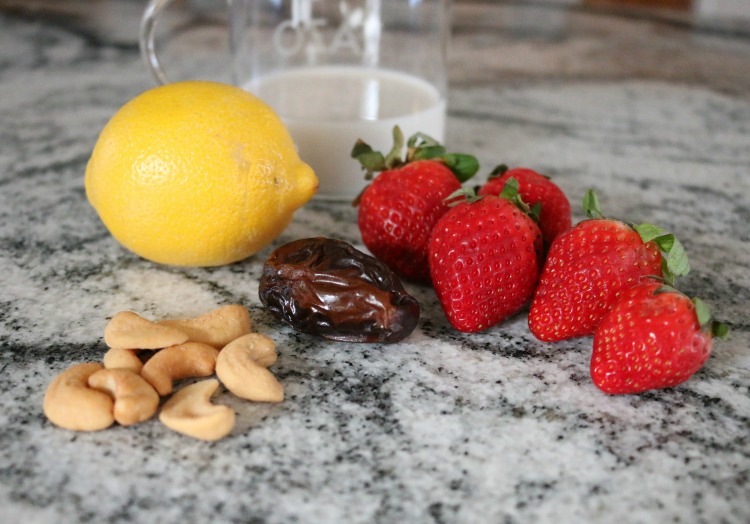 If you think you have to add sugar to your kid's smoothies, you don't.  I promise!  This strawberry lemonade smoothie is sweet, a tiny bit tart, delicious and best of all—actually good for you and your kids!
I'll admit that while I developed this smoothie recipe with my kids in mind, it's one of my favorites as well.  I love how refreshing it is.  It's a nice treat to break up a hectic day.
I hope you'll try serving up this truly yummy Strawberry Lemonade Smoothie this year for Valentine's Day and ditching the candy.  You and your sweethearts will love it!
INGREDIENTS:
– 2-3 ice cubes
– 1/2 cup of almond milk (unsweetened but we've used vanilla before too)
– 1/2 Cup fresh strawberries (frozen works just as well!)
– 1 tablespoon of raw cashews
– 1 tbs of fresh lemon juice
– 1/2 tsp of grated lemon zest (packed down)
– 1 large pitted date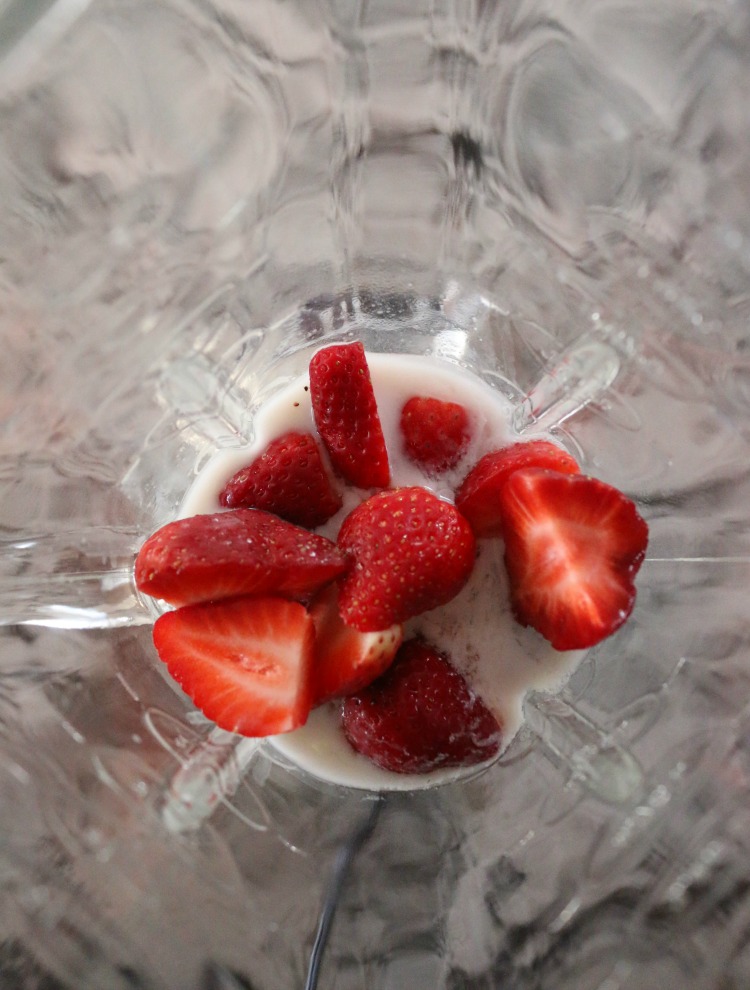 DIRECTIONS:
– Blend on high speed until smooth. Serve immediately.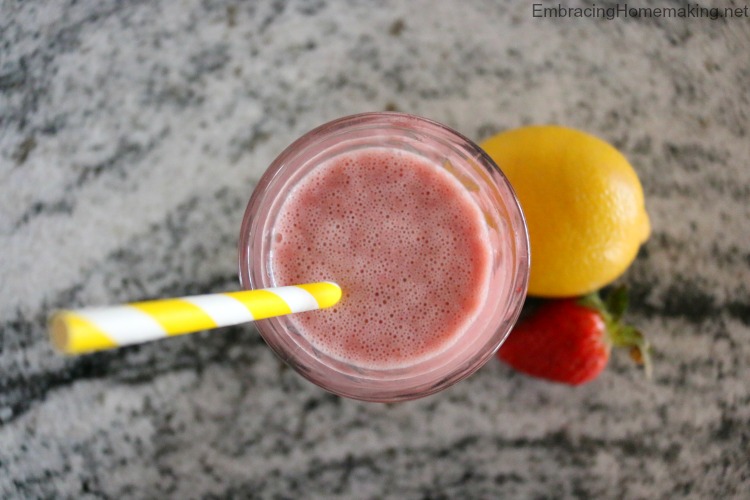 If you're in the need for a heavy duty blender to help create yummy smoothies of your own look no further than the selection at Wayfair.  They've got every brand and the reviews are so helpful in finding the perfect one for you.