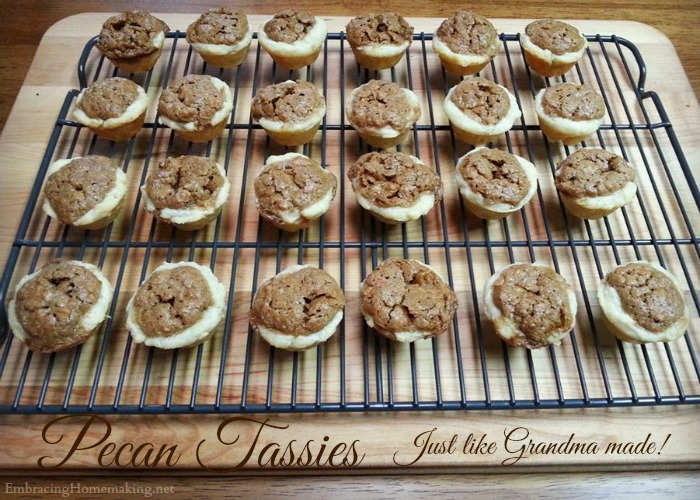 Pecan Tassies are sweet little tarts made with a soft and flaky cream cheese pastry and a ooey gooey filling full of chopped pecans.  You might say they are a miniature pecan pies!  Both of my grandma's made these at Christmas and now my mom and I do.  I hope these will become a part of your holidays just like they are a part of mine.
Quick tip: Pecan Tassies are delicious warm, cold, or at room temperature.  Plus, they freeze very well which makes them ideal for the Christmas season.  Enjoy!
Pecan Tassies
Author:
Prep time:
Cook time:
Total time:
These little pecan tarts are absolutely delicious and look lovely on a Christmas tray. The recipe says it serves 24 but nobody can only eat one!
Ingredients
1/2 cup butter, softened
1 3 ounce package cream cheese, softened
1 cup all-purpose flour
1 egg
3/4 cup packed brown sugar
1 tablespoon butter, melted
2/3 cup coarsely chopped pecans
Instructions
Preheat oven to 325 degrees F. For pastry, in a mixing bowl beat the 1/2 cup butter and cream cheese until combined. Stir in the flour. Press a rounded teaspoon of pastry evenly into the bottom and up the sides of 24 ungreased 1 3/4-inch muffin cups.
For pecan filling, in a bowl beat egg, brown sugar, and the 1 tablespoon melted butter until combined. Stir in pecans. Spoon about 1 heaping teaspoon of filling into each pastry-lined muffin cup. Bake for 25 to 30 minutes or until pastry is golden and filling is puffed. Cool slightly in pan. Carefully transfer to a wire rack and let cool. Makes 24 cookies.