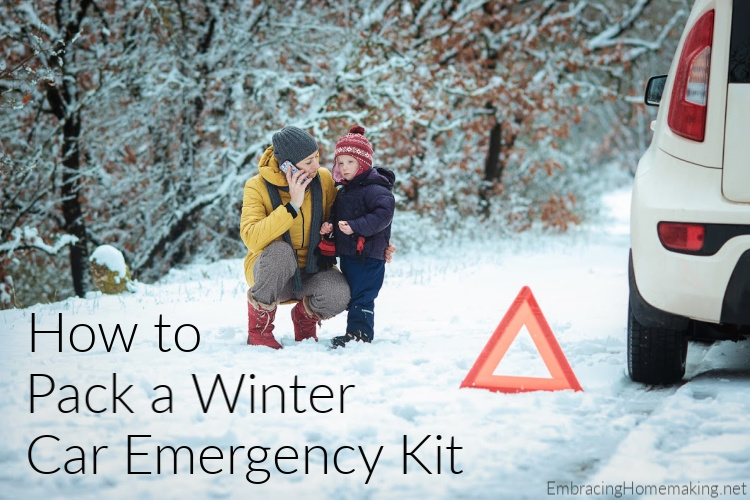 I don't know about you but my mom always wanted me to be prepared for a car accident.  Clean underwear. Bottled water.  Flashlight. Toilet paper (half empty roll in the glove box).  Blanket.  Candle and matches in case my car broke down in the winter.  As I've grown up I now no longer laugh at her preparation list (except for the clean underwear part, I still don't think that's a priority in an emergency. ha, sorry mom!).  Not only do I not laugh at her list but I've found that I've added quite a few things to her list.  Having kids of my own helped me think through the horrors of being stuck in a snowbank and stranded in a snowstorm.  Now I want to be as prepared as possible.  You win, Mom, you win again.
This post is brought to you by WilliamsBrothersDundee.com.
Winter Car Emergency Kit In Case of Car Trouble:
Emergency flares
Flashlight with batteries & extra batteries
Hand crank or reliable battery powered radio
Ice scraper/brush
Rock salt to melt ice
Sand or more easily transported kitty litter to gain traction in the snow
Jumper cables
Reflectors/neon flag/flashlight that will flash red
Roadmap (phones die quickly in the cold and aren't reliable)
Chain or sturdy rope for towing
Tire chains
Rock salt to melt ice, sand, and/or kitty litter for traction in snow
Warm blankets (we always have them covering the bottom of our trunk so they take up little space….they also work for fun spontaneous picnics in the warmer months)
Extra hats and gloves (especially for the kids)
Bottled water and non-perishable food (almonds are our go-to)
Cell phone charger/portable charger that's charged
A small amount of extra medications that your family might need
Toilet paper
Emergency candles and matches for small emergency heat source
There you have it, there's my advice for how to pack a winter car emergency kit.  If I left out anything you think would be useful to pack please let me know in the comments.