This is a sponsored post written by me on behalf of CORT for IZEA.  All opinions are 100% mine.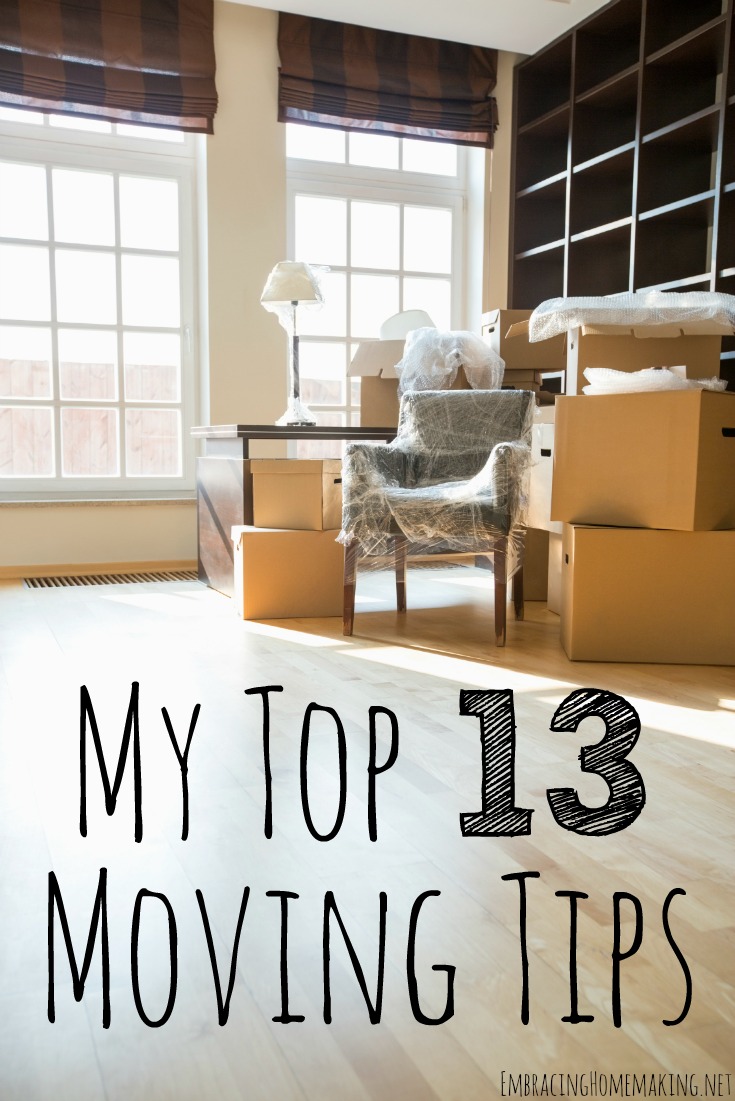 Moving isn't easy.  Actually, it might even be the hardest thing I've ever done.  Moving with kids is impossibly hard!  We just moved a few weeks ago so this is fresh on my mind.  These are the top 13 tips that I've tried and found to be helpful.  
1.  Let it go, let it go!
I'm talking about purging ya'll.  Let go of everything you don't LOVE.  Picture your new place and if you don't envision that piece of furniture there, let it go.  Can't imagine hanging up that picture of a cat you once loved but have stowed away in the attic for years?  Let it go.  Sell, donate, give away, and do whatever it takes to lighten your packing load.  You'll thank yourself when you have a less cluttered home…and when you're moving box after heavy box into your new home. (Check out 5 Painless Ways to Live With Less and 200 Things to Throw Away)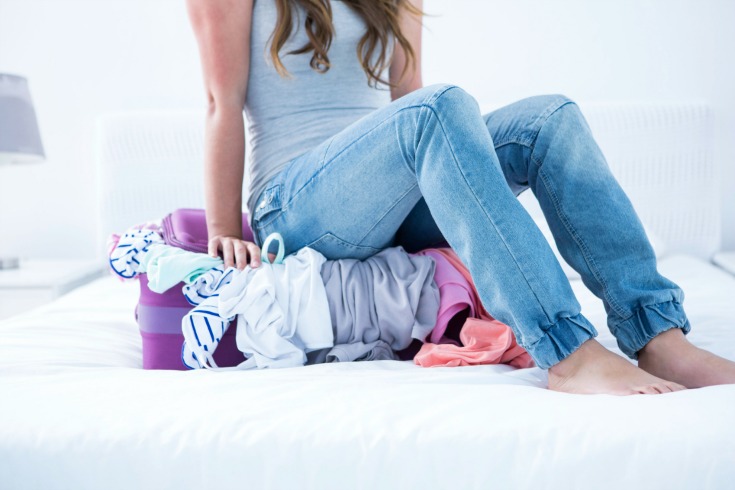 2.  Pack a suitcase for a week's trip
Pack all the necessities in your suitcase just like you would if you were going away for a week.  That way you have the essentials ready to have you clothed and bathed, even if you don't have everything unpacked.
3.  Label the boxes you'll want right away as URGENT
Take an extra step and label the boxes you'll want to unpack right away.  You'll be exhausted after your move and labeling boxes "Unpack on moving day" will make your life easier.  Trust me on this one!
4.  Buy a roll of stretch wrap***FAVORITE TIP!***
I love this tip and I didn't read it anywhere before I moved.  My husband brought it home with some blankets he rented from the local moving store.  He had it to wrap around the blankets to hold them in place.  It is also worked wonders to cover drawers with the clothes still in them!!  We saved time and money on packing boxes.  Time is precious when you're packing and unpacking every single one of your belongings.  This tip saved me SO MUCH TIME!  It's also great for wrapping up rugs.
5.  Wine boxes are great for heavy boxes
I don't drink but I love the heavy duty wine boxes for moving boxes of books.  They're strong, have handles and have lids instead of the flaps that moving boxes have.  Hit up a local liquor store for any left over boxes.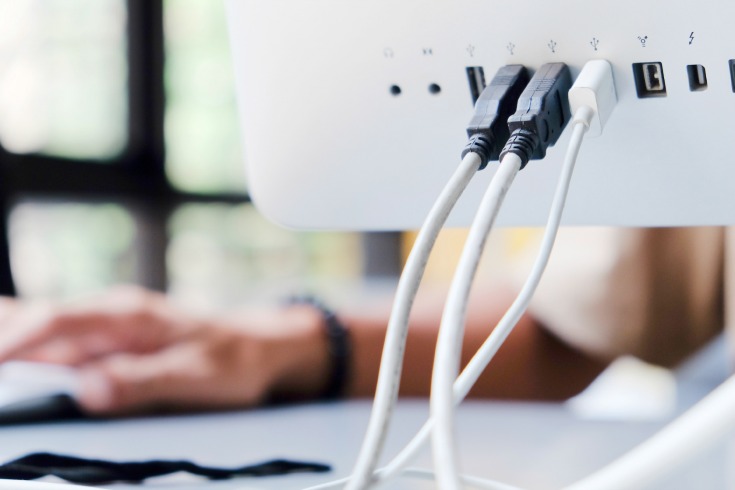 6.  Take photos of how your tv and computer hook up
Yes, we learned this one the hard way.  We actually took ours to the computer store we bought it from because we thought it was damaged in the move.  Nope, it just has two cords that connect the monitor to the tower. 🙂  We also had a lot of junk cleaned off it so it wasn't a totally wasted trip but we felt like idiots.  #stayinghumble
7.  If you have friends helping you move have them come in shifts
We were blessed to have many friends who offered to help us move.  Some couldn't come on moving day so they came earlier in the week to help us move the big items (fridge, couches, big dressers etc.).  This made moving day easier with the big items out of the way and if we had to move again (God forbid!) we would do it this way all over again.
8.  Use forearm forklifts
If you plan on moving furniture yourself invest a few dollars in a pair of forearm forklifts.  They are incredible!  I can lift any piece of furniture with my husband.  Okay, I didn't really move it myself…I let the guys do that but I did try them out to see if they were as good as the commercials.  They are!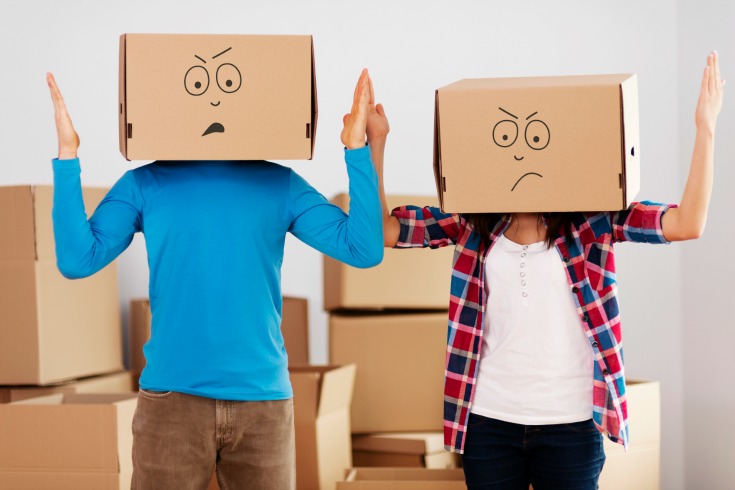 9.  Number boxes
This is going to sound crazy to most everyone who reads this and I totally get that.  However, if you're an slightly obsessive organized person like my husband is this tip will be right up your alley.  While it wasn't my idea initially it sure is nice when I'm looking for something.  When packing the boxes I labeled each box with a number and the room it went in.  Then I grabbed my phone and Facebook messaged my husband the number of the box and a list of the contents.  He copied and pasted the contents into a spreadsheet where we can now search when we're looking for something.  Olive oil?  Box 118.  Pizza pans? Box 128.  Worth the extra time?  That's up to you and your family.  For us, we loved it.
10.  Decide how you want to unpack before you move
We put all of our boxes into one unused room and we go in there as needed to find what we want.  We grab a box and unpack it and put the empty folded box back in that room.  We can shut the door and live without the visual clutter.  I love that!  If you want to have each box in the room where it will ultimately live then you may want to color code the boxes with duct tape to help alert the movers where the boxes go.  Put a strip of that color tape on the door where those boxes will go.
11.  Don't pack important items, take them in your car
Things like trash bags, baggies, sharpies, box openers, etc. will be handy right up until you move.  Don't make the mistake of packing these things.  I packed up baggies and regretted it many times over.  I made good use of the stretch wrap from #4 though!
12. Don't forget to put in a change of address at the USPS
They'll forward your mail for up to 12 months.  As you get mail forwarded to your new home take the time to change your address.
13.  If you're moving a lot, consider selling your furniture
If you're in a time of transition, renting furniture is a great option.  For instance, if you're a military family you might opt for renting furniture instead of hauling furniture across the country every few years.  The longer you rent the furniture, the cheaper it is.  If you plan on moving again in the near future you might want to consider renting furniture at your new home and selling your old furniture.
Renting gives you less hassle with your move and maybe even a cheaper move! CORT Furniture Rental is the place to rent furniture from.  It's the cost-effective and convenient alternative to moving bulky furniture.  It's the perfect flexible option for those times of transition in life.  Whatever your budget, style, location, and time frame CORT is there to provide you with a furnished home. Those are my 13 tips!  Did I leave something off?  If you have any tips that you would like to add please comment below and let me know.