This post contains the review of a Lilla Rose product given to me in exchange for sharing my opinion.
There I was, minding my own business, half-heartedly browsing a Facebook group for homeschooling parents.  I was trying to plan what extra "fun" things I'm going to try and add into this year's curriculum when there it is.  It hit me like a pretty piece of metal. Umm,  Like a flexi clip.  Okay, I don't have the words but it hit me.  And in a good way.  There it is, a beautiful head of hair pulled back with a single metal clip and a note that said something to the effect of, "I opened the doors this morning and I closed them late this afternoon and this hair clip hasn't needed adjusted."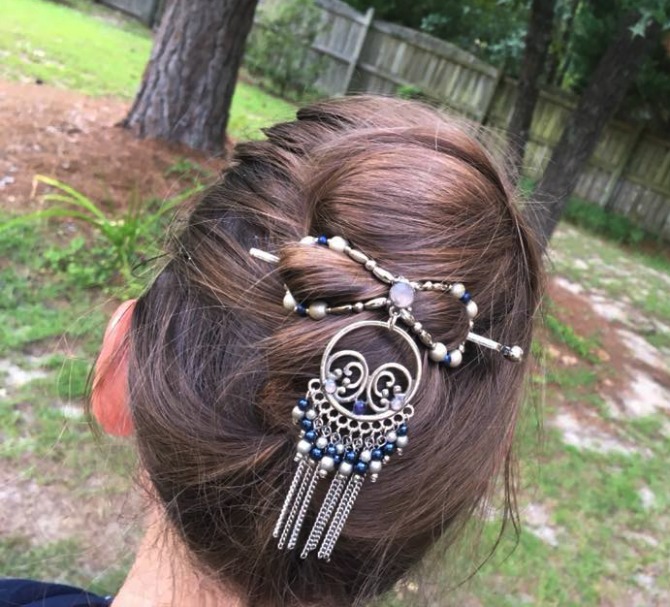 Boom! Right?  That would grab any woman's attention.  Especially, this mom who (let's be real) lives in a ponytail or twist up do with a boring black plastic clip most days.
I needed that secure clip in my life even if it was a little more glamorous than would naturally appear in my life.  I inquired to know more and found out that she has a Help for Hair facebook group (you can join it here if you'd like).  Brilliant name for her group, right?  It turned out that the group was very helpful.  Once accepted into the group I asked a lot of questions, found the correct size for my hair, and quickly added $70 in hair clips to my cart.  I loved the clips and had to have them in my life.  I wanted some for my daughter too, not all $70 worth was for myself (don't worry, they aren't that expensive!).
I saved these items to my cart and went about my day waiting for my daughter to wake up so I could ask her which of the clips I had saved were her favorites.  I'm usually good about guessing these things but she's getting older now and it's always best to double check.  While I was waiting, I noticed the stylist who shared this rescuer of my hair had requested to join my Live With Less Facebook group (you're welcome to join here too!).  What a coincidence, I thought!  A little while later we were chatting and she suggested giving me a hair clip in exchange for hosting a giveaway on my site.  Now, normally I don't do those but as I just told you, I had added quite a large list of items to my shopping cart and I thought why not save a little money….besides, I love to support small businesses and talk about what I'm passionate about and I was sure I would love these.  And I do.  I LOVE them!  Truly, truly.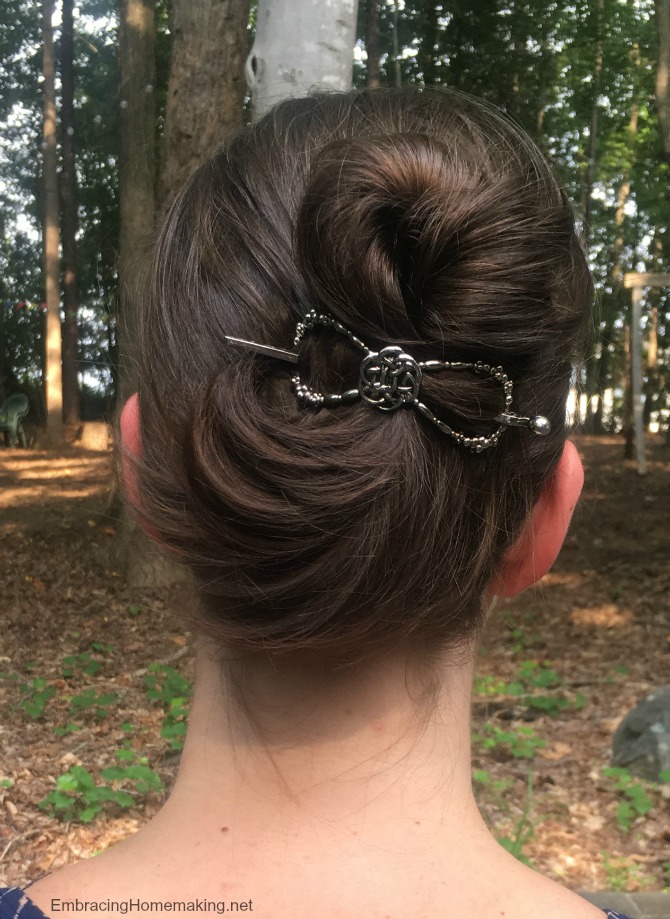 Here I'm wearing the celtic knot in a large flexi clip.  It's the one I chose to try out because it's simple but fancy at the same time so it will go with a wide selection of clothing styles.  Plus, I just love celtic knots, don't you?
This hairstyle was the first of many attempts to try new things.  I'm excited for the wide world of Lilla Rose hair style video tutorials.  The stylist I mentioned earlier, Kristi Bothur, has several great video tutorials in her Facebook group.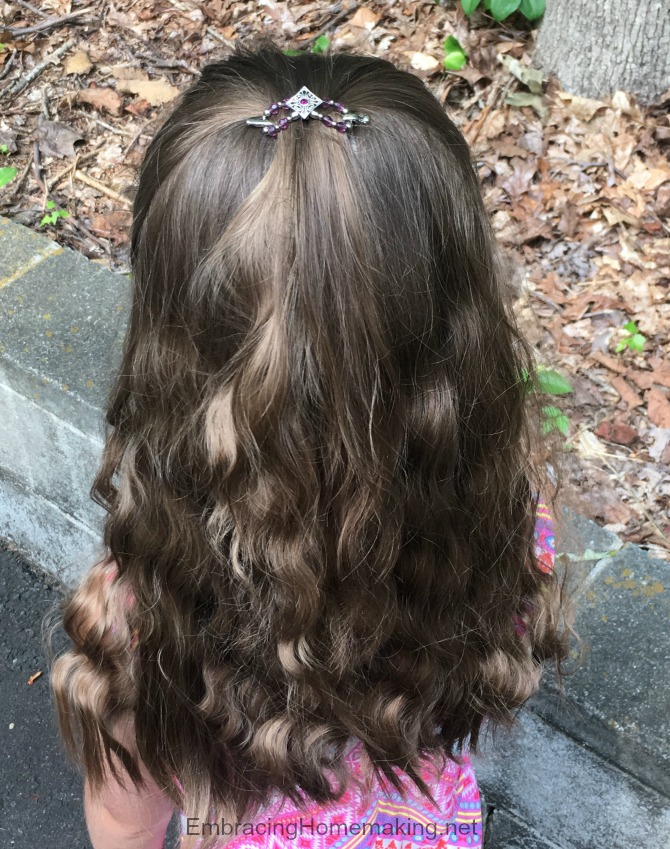 I bought my daughter a mini flexi hair clip and she loves it.
She was so proud that she wore a hair clip like her mommy.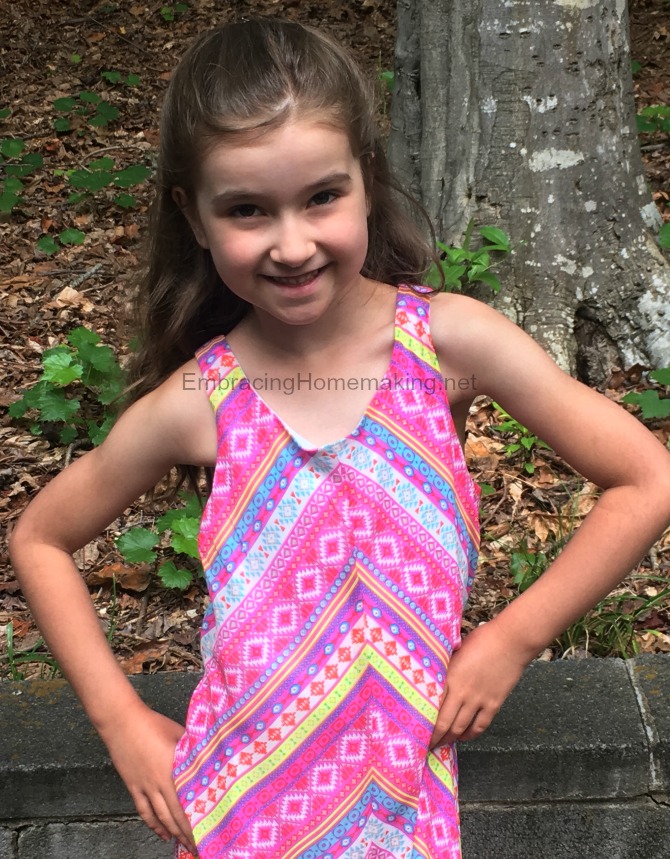 Each month, Lilla Rose has a special they promote and this month is a free bobby with a $40 order and two with a $50 order.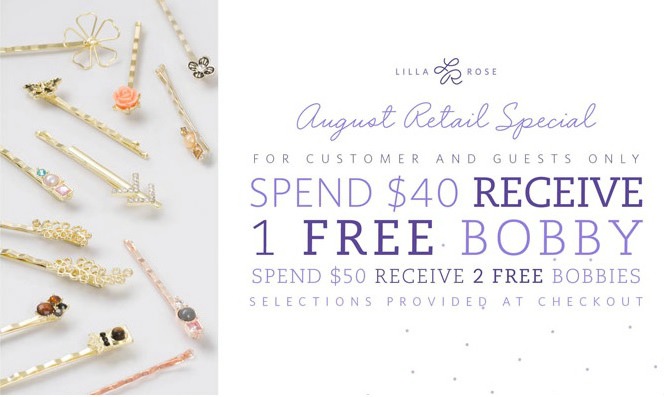 Click here to shop and see what beautiful flexi clips and bobbies they have!
This pineapple is a new flexi clip (and messy bun pins) will only be available in August while supplies last.   The monthly clips usually sell fast (from what I've read in groups- I tell ya, I'm a hard core Lilla Rose flexi clip user now!).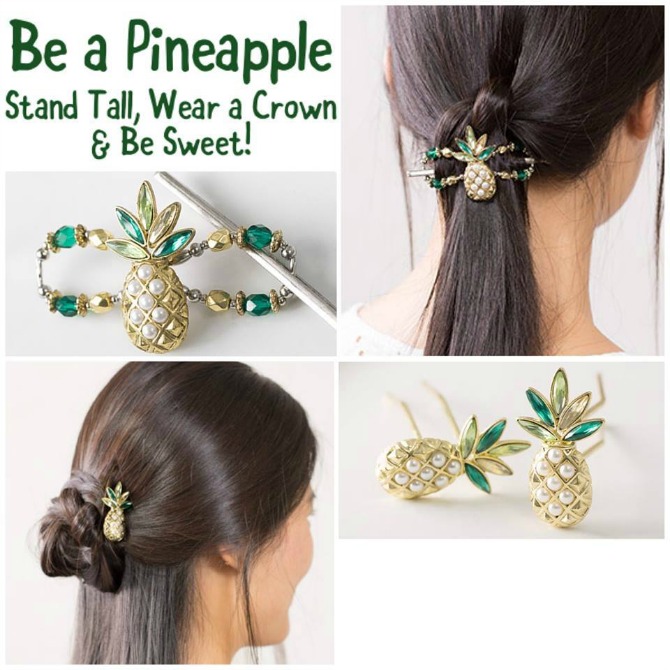 The main giveaway entry is a simple form with optional other means, like commenting on this post for example and checking out Kristi on social media.  By entering the giveaway you'll be signing up to get monthly specials and can unsubscribe at any time.  The giveaway will end August, 14, 2018.  Good luck!