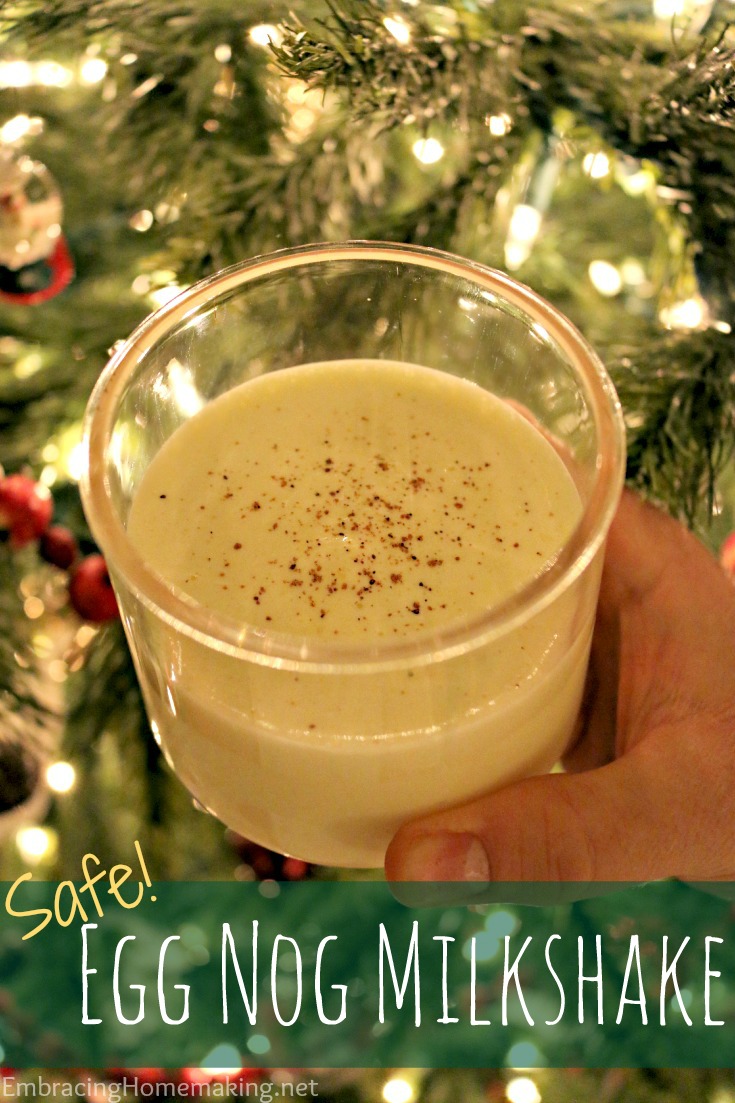 Just a few ingredients and you can create the milkshake version of everyone's favorite holiday drink, eggnog. This recipe is nonalcoholic and completely safe for all ages (aside from those allergic to said ingredients).  This creamy and delicious recipe will make around 20 servings so halve the recipe if you're cooking for a smaller crowd (see our How to Halve a Recipe cheat sheet).  I hope you enjoy this family recipe.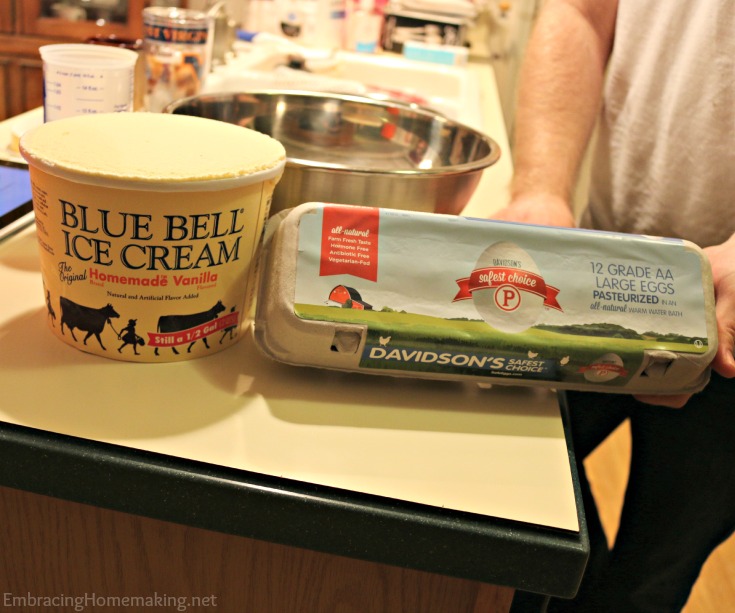 Start by using PASTEURIZED eggs.  **Don't miss this!**  If they aren't pasteurized you're putting yourself and your guests at risk for salmonella.  Pasteurized eggs cost a bit more but it's a small price to pay for peace of mind…and is still cheaper than a milkshake you'd buy anywhere else.  Once you buy pasteurized eggs this milkshake is as safe as drinking milk.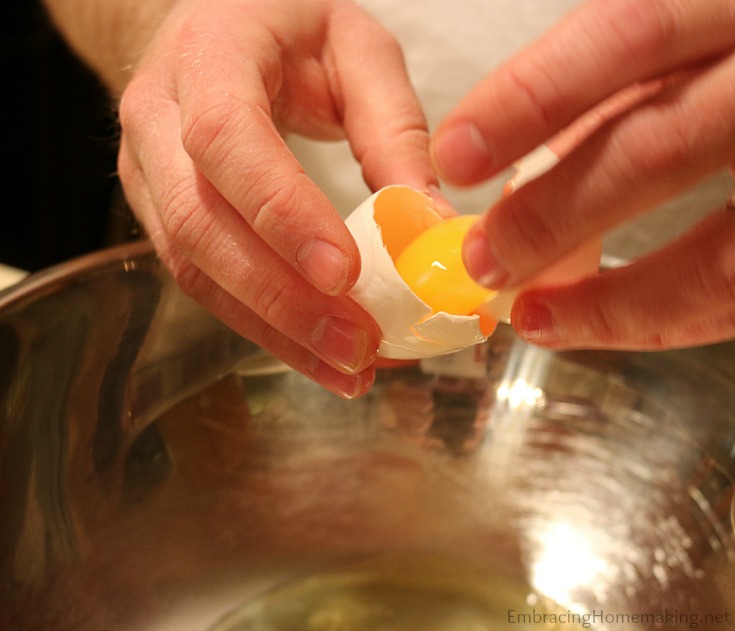 Divide the egg from the yoke.  Look at my husband's superb egg dividing skills!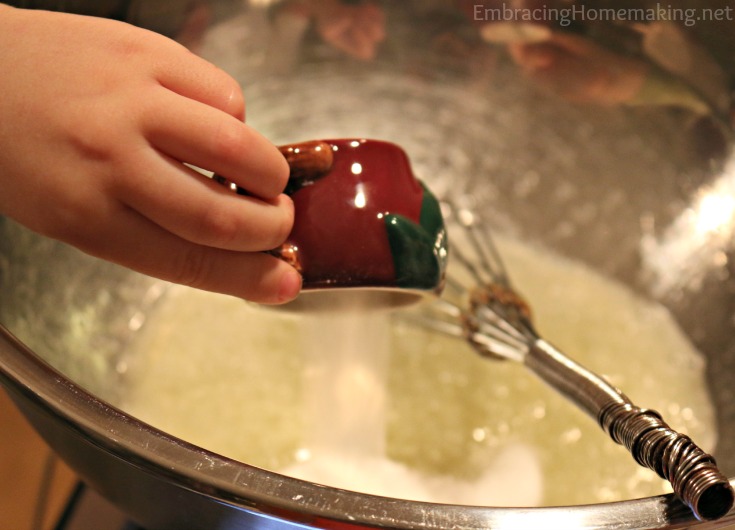 This is my little girl helping add the sugar.  She didn't feel well and we thought a milkshake treat would help take her mind off of her sickness.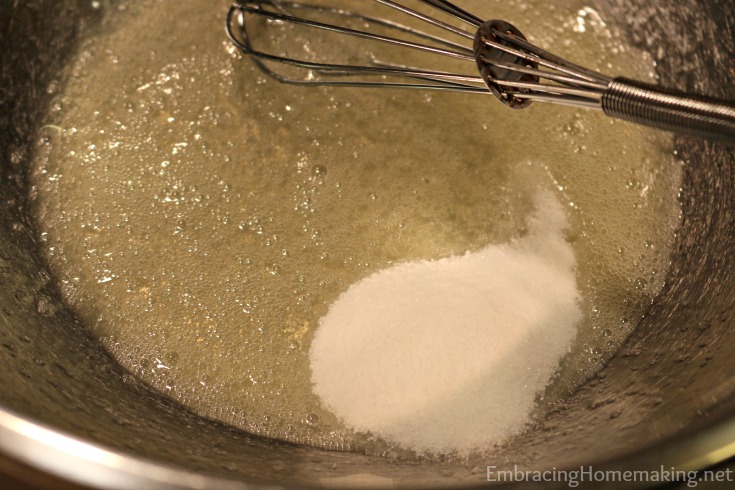 Just whipped egg whites and sugar.  …and a partially rusted wisk.  Ignore that.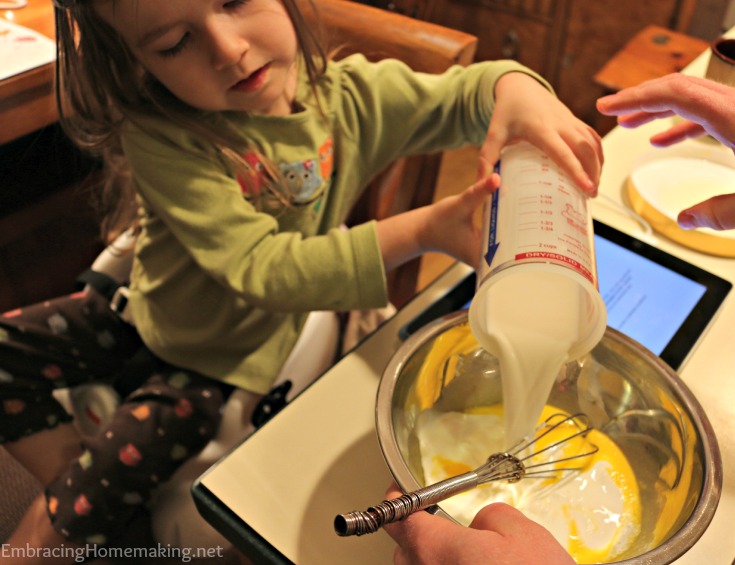 My little helper is pouring the half and half into the combined whipped egg whites and whipped egg yolks.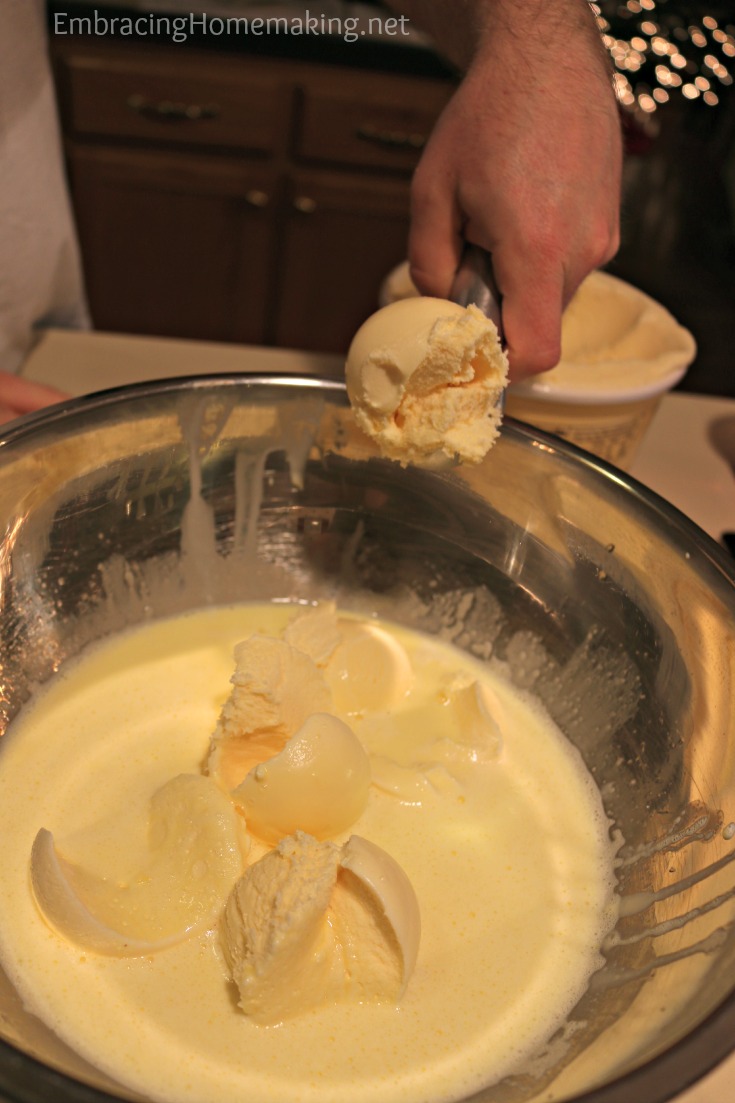 After that has all been mixed by hand it's time to add the ice cream.  We've made this a time or two ten and we like it best when we use really cold, just from the freezer ice cream.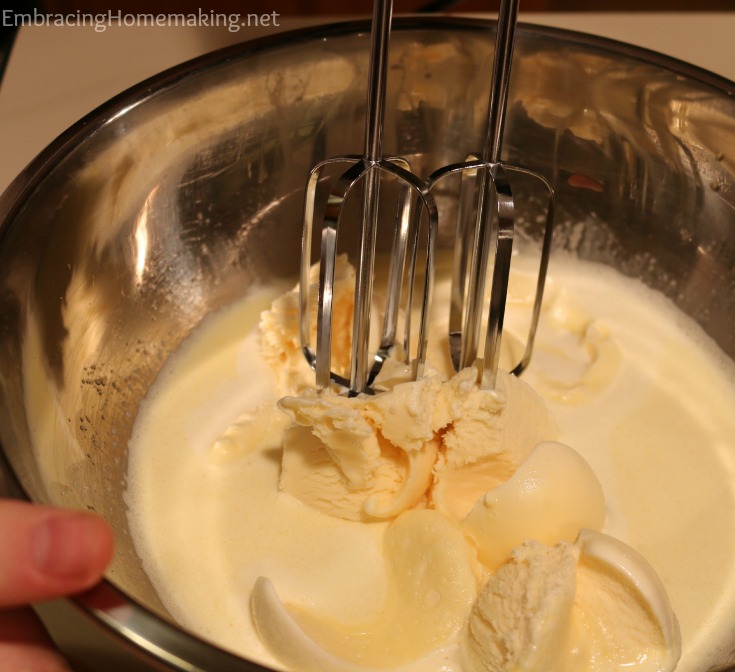 Then beat with a hand mixer till you get the milkshake consistency you want.  You can sprinkle nutmeg or cinnamon on top to your liking but we often enjoy it without either.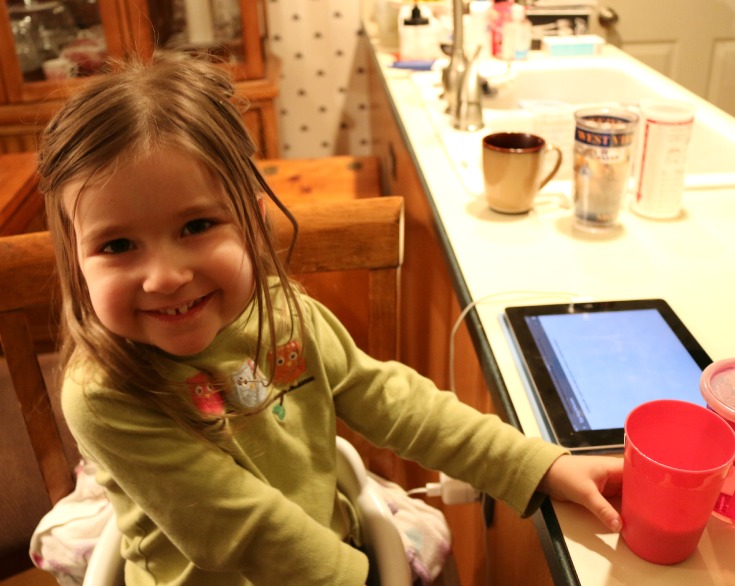 She loves it!  And I hope you do too!  I know it's a little after the holidays but it's still a great time to enjoy an egg nog milkshake.
If you like this recipe please consider sharing it on Facebook or Pinterest so others can find it!
Egg Nog Milkshake
Author:
Prep time:
Total time:
An egg nog milkshake that is so delicious you'll never buy store bought egg nog again!
Ingredients
6 pasteurized eggs – separated
1/4 cup sugar
1 quart vanilla ice cream
1 pint half and half
Nutmeg or cinnamon optional
Instructions
Whip egg whites and add 1/4 cup sugar.
Beat egg yolks until fluffy.
Mix in with egg white and sugar mixture and then mix in 1 pint of half and half.
Combine with 1 quart of ice cream with a hand mixer to milkshake consistency.
Sprinkle with nutmeg or cinnamon if desired.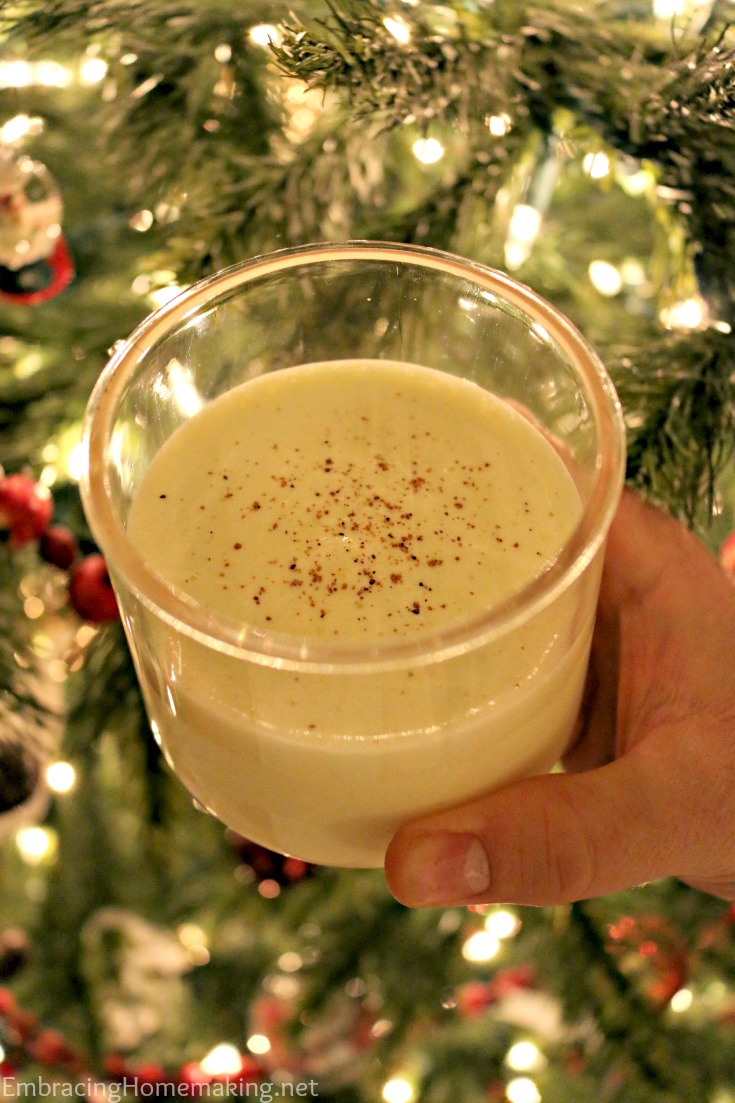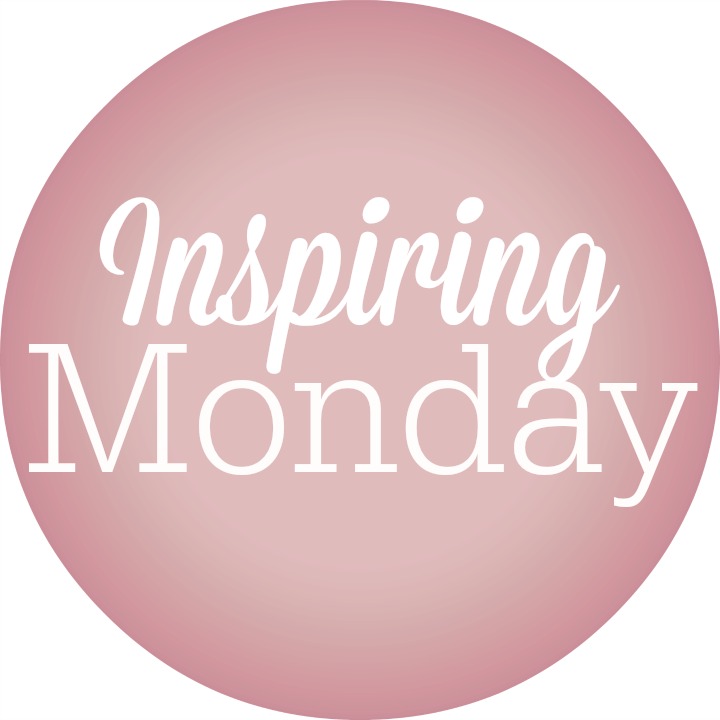 Now for the P-A-R-T-Y!  Welcome to my Inspiring Monday link up and I'm excited to have you here!  Are you ready to party?
Before we start, please keep in mind:
– It's nice to socialize with other party guests.
– Link up all of your inspiring posts that you've written on YOUR blog. Recipes, crafts, printables, DIY, and homemaking posts are welcome. Please don't link to Etsy stores, giveaways, etc.
– By linking up to Inspiring Monday you are giving Embracing Homemaking permission to feature your project and/or photos on our social media outlets and blogs to help promote your post.
Let's party!