This post is sponsored by General Mills but all opinions are my own.
Being frugal is really important to being a mother and, well, just a financially healthy person. However, I don't really like to give up all of my treats. Those little things at the grocery store of certain restaurant that are go-tos.
Recently, I've found a little hack in Nature Valley Bistro Cups. The idea is you take an oatmeal packet and dump it into a large mug. Then you use the K-cup brewing machine to cook the oatmeal by making a K-cup to pour over the oatmeal; the hot water cooks the oats. The Bistro cups have seasoning and flavors in them, and they packet comes with add ins like fruits and nuts, which is what makes this a treat for me. Eggs, turkey bacon, and toast are my morning staples, but I really like these K-cups for their convenience and dash of decadence they add to a dull day.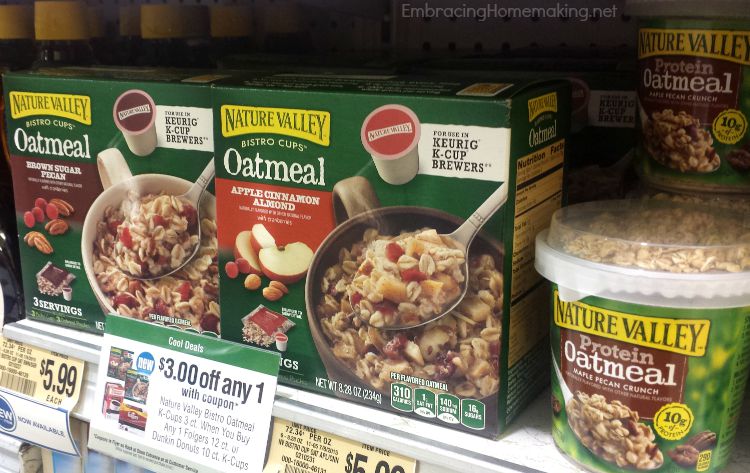 They have two flavors, Apple Cinnamon Almond and Brown Sugar Pecan. I'm a cinnamon girl, so it's my favorite. If you're interested in trying these out, Publix has a $3.00 coupon! Love some coupons, don't we?! It's a great way to make this low committal.
I really like this idea because it is so convenient. I make my oatmeal, and while it's sitting and cooking, I make my coffee. Seriously the whole process doesn't take more than five minutes. And even if 5 is all we have to give to ourselves in the morning, that's a must. Breakfast seriously makes or breaks your day. I used to only eat cereal and carby milk for breakfast, would starve until my healthy lunch, and binge for dinner. Totally not healthy. Making sure the foundation of breakfast is solid takes care of a gambit of problems that can arise nutritionally the rest of the day.
Enter to Win $10 Paypal Cash! Good luck!
a Rafflecopter giveaway