This is a sponsored post but all yummy pictures are my own. : )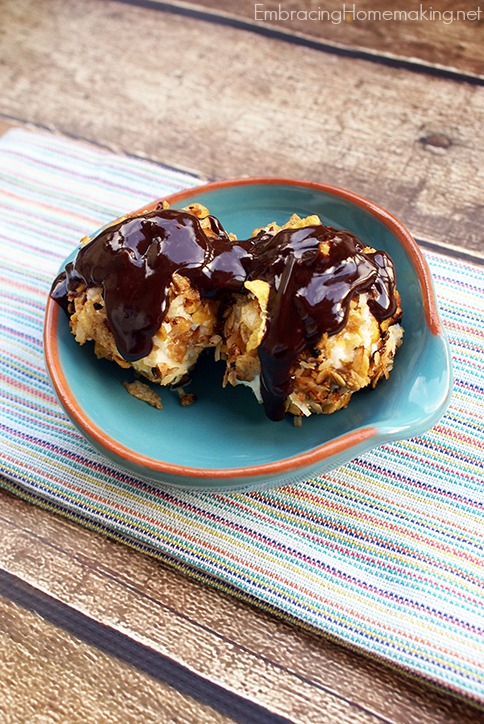 Honey Bunches Of Oats is a cereal we often have one or two boxes of.  When I was pregnant with my son I craved the Honey Bunches of Oats with strawberries so much that I bought it in bulk.  I love the subtle sweetness, soft flakes, and the crunchy honey clusters.  Recently, I was asked by Honey Bunches of Oats to make their version of fried ice cream using their cereal.  That sounded too good to pass up so I gave it a try.  ….it's divine!  Trust me, you want this in your life.  Here's the recipe so you can try it for yourself!
Ingredients:

"Fried" Ice cream:
1/2 cup shredded coconut
1/4 teaspoon chili powder
1 Tablespoon vegetable oil
2 cups vanilla ice cream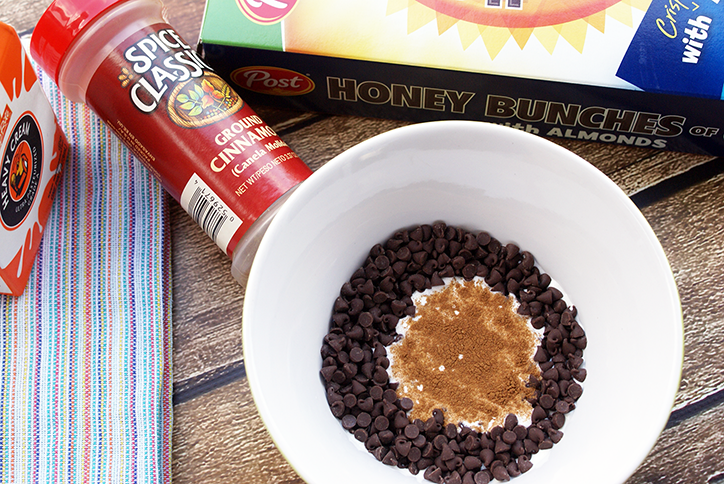 Cinnamon-Chocolate Sauce:
1/2 cup semi-sweet chocolate chips
3 Tablespoons heavy cream
1/2 teaspoon cinnamon

Directions:
Place cereal in a medium bowl and lightly crush with your hands or the back of a wooden spoon. Add coconut and chili powder and combine.
In a large skillet, heat vegetable oil. Add cereal and coconut mixture and fry until it is golden brown and toasted, about 5 minutes. Remove from heat and cool completely.
Using a 1/2 cup measure, scoop ice cream and quickly form balls with your hands. Place on a small tray and immediately return to the freezer for at least 30 minutes or until the balls are firm.
Remove ice cream balls from freezer and quickly roll each ball in the cereal and coconut mixture. Return to freezer for at least another 30 minutes or until the balls are firm again.
When ready to serve, combine the chocolate chips, cream and cinnamon in a microwave safe bowl and microwave for 30 seconds. If the chips are not completely melted, stir and microwave for an additional 30 seconds.
Serve each fried ice cream ball with a drizzle of cinnamon-chocolate.

This recipe was fabulous in taste and in the time spent preparing it!  I'll definitely make this again and I hope you'll give it a try.