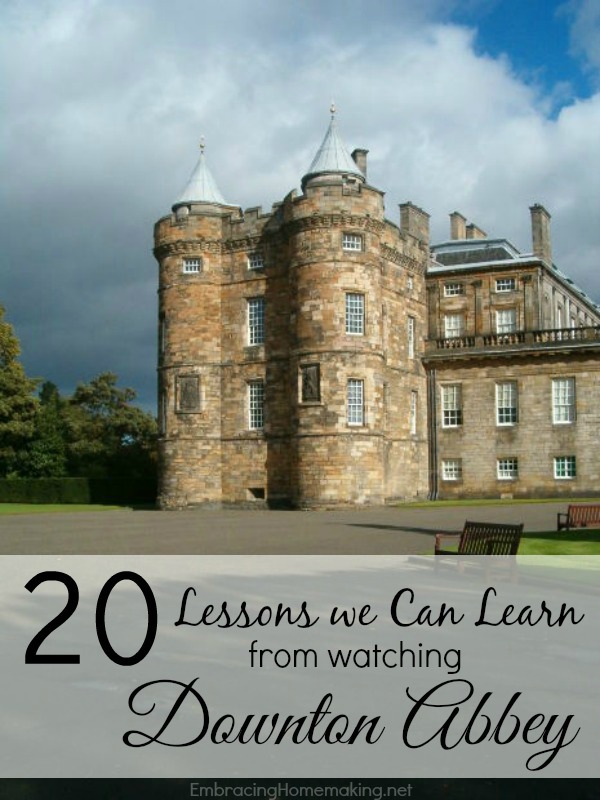 Do you love tuning into Downtown Abbey each week and watching the adventures of the Lords and Ladies? Many do, as Downtown Abbey seems to transform us to a magical place of beauty, intrigue, mystery, and of course drama. If you are a Downton Abbey fan, take a look below at 20 lessons we can learn from watching Downton Abbey. Next time you tune in know that you aren't just being entertained; you are learning a little something fun as well!
1. Breakfast in bed can make anyone feel like a Lord or a Lady.
2. A simple walk around the grounds and gardens are good for the soul.
3. Any outfit can be made fancier with a hat…especially if the hat has feathers.
4. A great pair of elbow length gloves is a must have for every wardrobe.
5. Nothing brings folks to the dinner table like a gong.
6. Mr. Carson can solve just about any problem. Now if only he lived in our basements too!
7. Silver candlesticks add instant glam to any table. A lush table covering does so as well.
8. Writing letters is very chic…and quite romantic.
9. A crystal chandelier can make any space feel grand.
10. Getting dressed each morning would be easier with a valet or ladies maid.
11. Most problems can be solved over a cup of tea.
12. Announcing your guests as they arrive will make them feel extra special.
13. Referring to your work clothes as your liveries will make people think you are fancy.
14. It is uncivilized to talk about money with friends.
15. No self respecting lady leaves the home without a hat on.
16. A gentleman should always stand when a lady leaves or enters the room.
17. A crackling fire in the family library is a great way to end the evening.
18. Telegrams need to come back in fashion.
19. Calling anyone you love "darling" is sure to make them feel adored.
20. Every gal needs an Anna to bounce their problems off on before bed.
See how much Downton Abbey has taught us? It surely transports us to a beautiful place and time, when attention to detail, fine manners, and standards were truly in place. The next time you enjoy an episode, see if you can spot these lessons mentioned above.
What else have you learned from watching Downton Abbey?
{See Related: How to Host a Downton Abbey Themed Party}