As it is with most people, Christmas is always a special time in our household.  We have a lot of traditions that are sticking.  Driving to see the Christmas lights, opening one present on Christmas Eve, making homemade Christmas ornaments, baking Christmas cookies to share with loved ones, and a special breakfast on Christmas morning.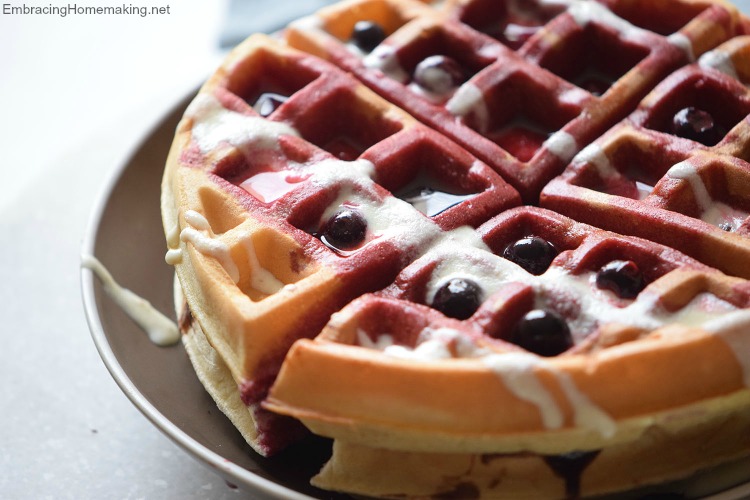 This week my daughter and I (and my son at some points) baked and baked.  We baked (a frozen) pumpkin pie, white chocolate macadamia nut cookies (my favorite!), gingerbread men (my husband's favorite!), and these delicious blueberry cake waffles.  These waffles may just be what we need this coming Christmas morning!!  They are delicious and so very easy to make.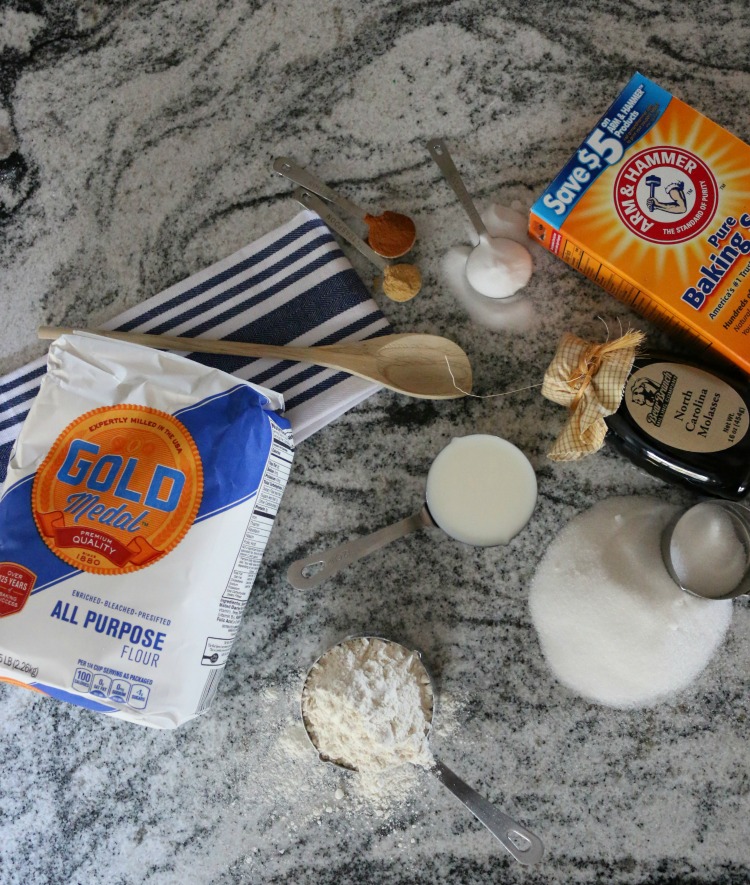 The picture above is for our gingerbread recipe and not the waffle recipe.  I'm only stating this because I don't want anyone to add molasses to their waffles.  Although, it might not be too bad! 🙂
By the way, I have to brag on Walmart Grocery!  I am in love with their drive up, pick up service.  Ordering the night before and scheduling a time to pick up is THE. BEST. THING!  It's so nice.  I was able to stock up on all of my baking goods before our day of baking began and I didn't even have to step foot in the store.  Even if you don't have Walmart Grocery pick up in your area yet the Walmart baking isle is still the go-to place for all your baking needs!  It has enough Gold Medal all-purpose flour and Arm & Hammer baking soda to keep your pantry stocked till new years.  These are brands that families have trusted for over 100 years!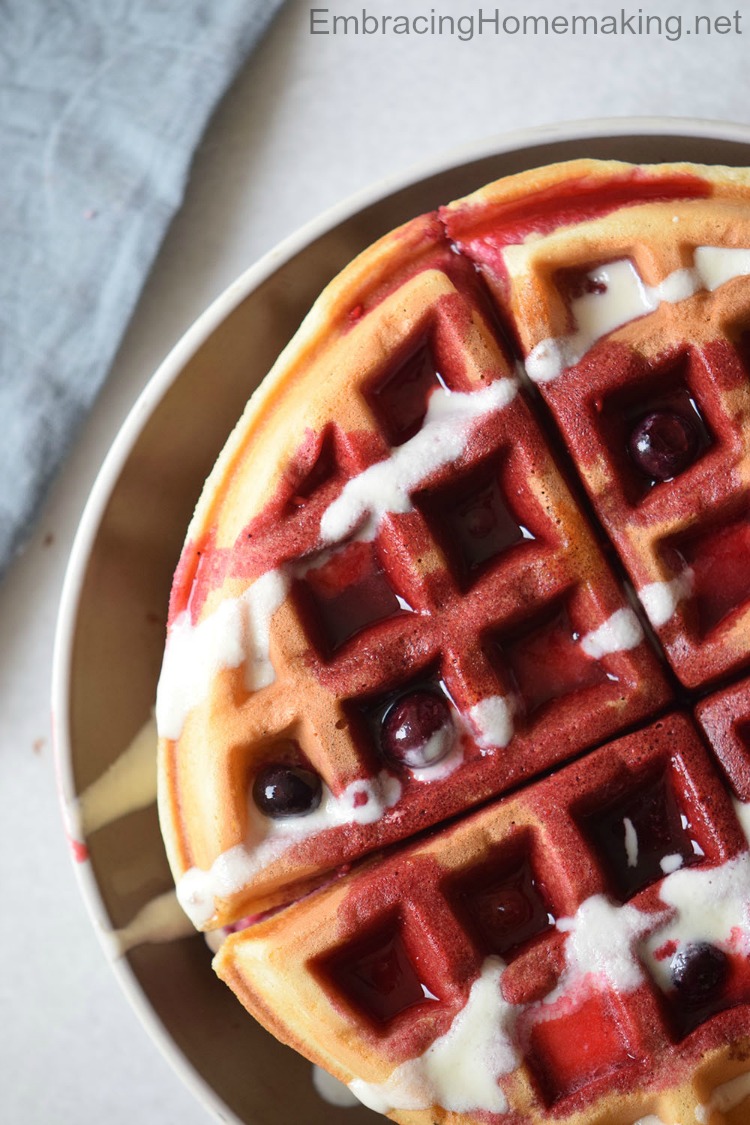 We've always been big waffle people since we were given a waffle iron as a wedding gift.  We used to have them regularly every week and while we're not as consistent in making waffles these days it is still a special treat to be savored!  One trick I learned a few years back about making waffles is to let the batter rest before making.  Letting the batter rest 5 minutes between mixing and spooning it onto the griddle will make the waffles much fluffier.  Plus, what mom doesn't need that 5 extra minutes to get juice poured, heat up the syrup, make sure you have enough clean forks (wait, is that just our family? lol), and a million other little odds and ends that moms (and dads!) do in the morning.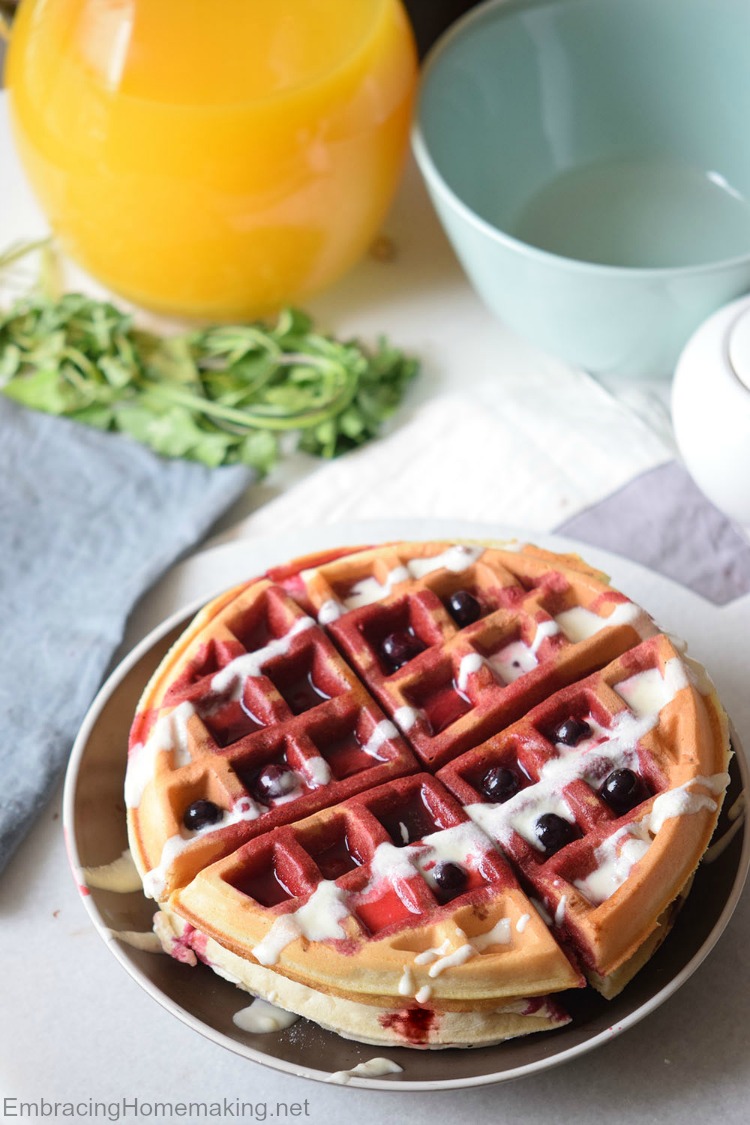 Here's what you need to make these little beauties!
Ingredients:
-2 Cups Gold Medal all-purpose flour
-1 Cup butter milk
-2 Large eggs
-½ Cup melted butter
-¼ Cup sugar
1½ Tsp Baking powder
-½ Tsp Arm & Hammer baking soda
-1 Tsp vanilla extract
-1 Cup blueberries
Directions:
 -Preheat the waffle maker.
 -Sift in a large bowl the all-purpose flour, sugar, baking powder, and baking soda.
 -Add the eggs, melted butter, blueberries, sugar, and vanilla.  Mix the batter for 1 minute.
 -Let the batter rest for 5 minutes.
 -Add a layer of melted butter to the waffle maker and pour the batter into it.
 -Cook according to the instructions of the waffle maker.
 -Serve with the remaining blueberries and enjoy.
 -Top with melted buttercream icing if you like. 🙂 That's how I like it!
What are some Christmas traditions you have at your house?