This is a sponsored conversation written by me on behalf of Tyson Foods, Inc. The opinions and text are all mine.
Whether you're three or thirty or have thirteen grandkids, chances are you probably enjoy a basket of delicious, chicken tenders. Maybe you call them chicken strips, or chicken bites, or chicken fingers?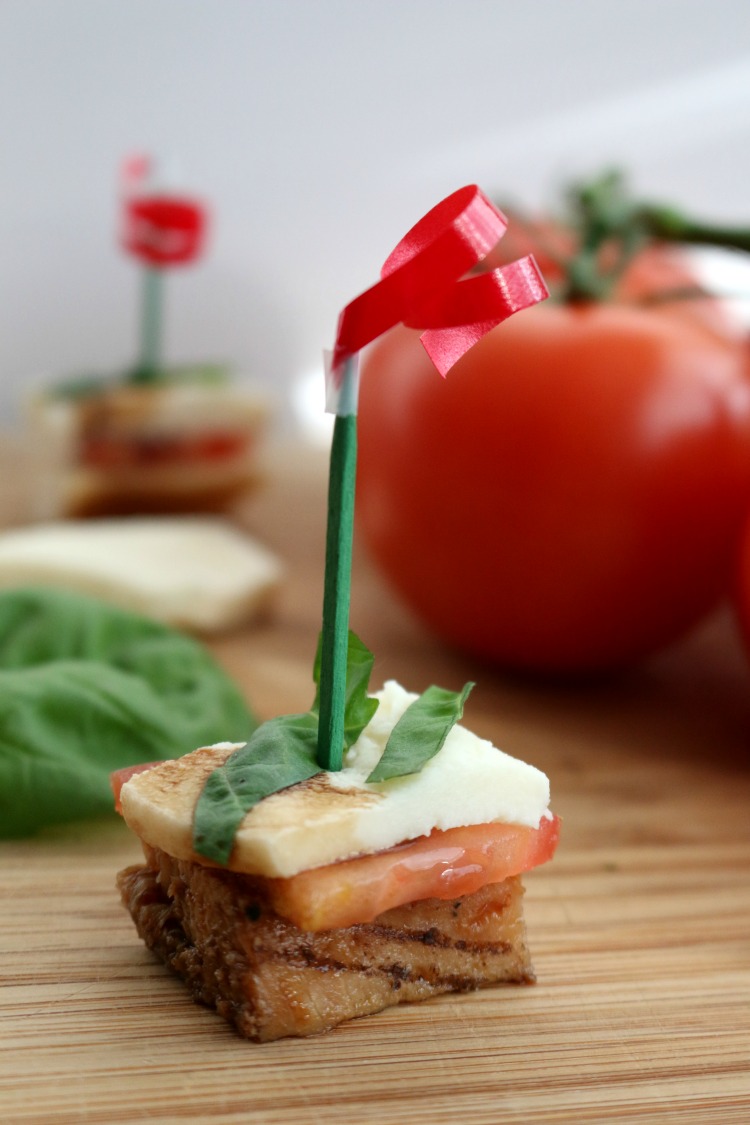 No matter which moniker you choose, this amazing chicken caprese is going to be your family's new favorite recipe. The base of this appetizer is Tyson ® Grilled & Ready ® Chicken Breast Strips. This recipe is so incredibly good that we never have leftovers, and honestly, my family could eat these appetizers for their meal sometime. It would make a nice lunch sometime all on it's own!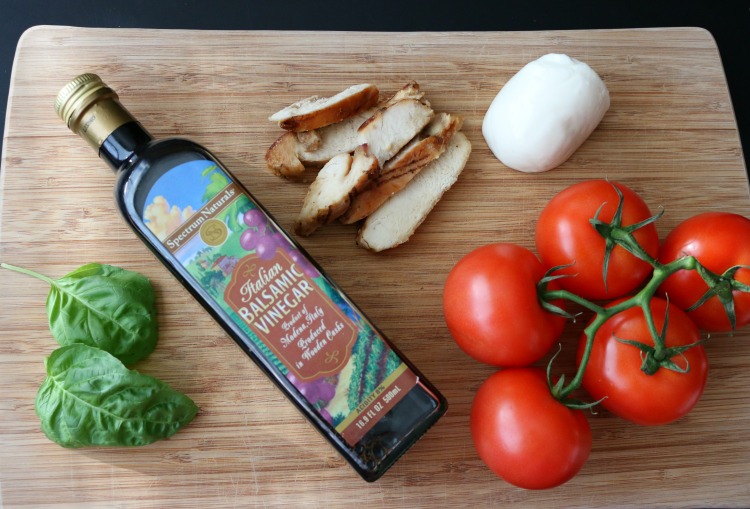 This recipe is so easy that my daughter can help with every step of it! We start by microwaving precooked Tyson ® Grilled & Ready Chicken Breast Strips. While that's heating up, slice the tomatoes into 1/4 inch thick slices and do the same to the mozzarella. Find your balsamic vinegar and cut a few basil leaves into strips. Once your chicken is ready cut it into bite size pieces and cut the tomato and mozzarella so it fits on top nicely. Add as many strips of basil as you choose. Give a light drizzle of balsamic vinegar and stick a toothpick in it. We decorated our toothpicks with curling ribbon for two reasons. Number one, because the fancy toothpicks were sold out. Number two, my daughter will find any excuse for a craft. Using scotch tape and scissors are two of her favorite things. They do look quite decorative though, don't they?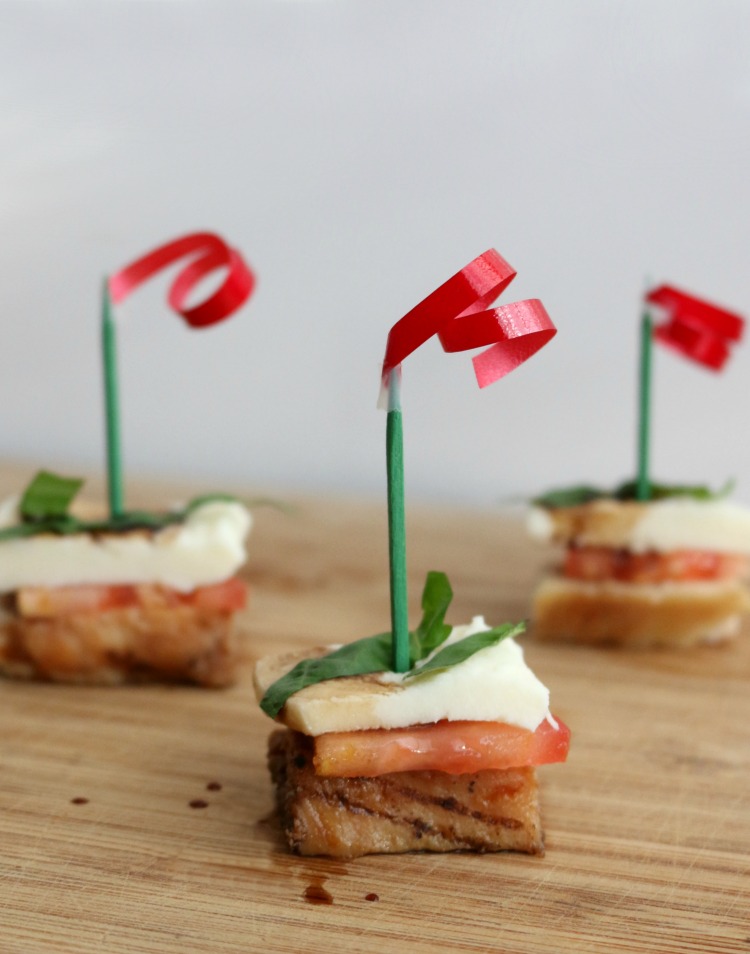 This is a great appetizer to whip up in under ten minutes. It's so easy you can even have the kids help…or do it themselves if they're old enough! When your New Years party guests arrive they'll be blown away by your fancy and tasty appetizer. Tyson® Grilled & Ready Chicken Breast Strips really make this appetizer a real treat. Tyson® has taken the hard work out of making delicious and flavorful chicken and all we have to do it heat it up. It really doesn't get any simpler than that…and I need simple. This stage of life demands it. If you give this appetizer a try I'd love to hear what you think of it!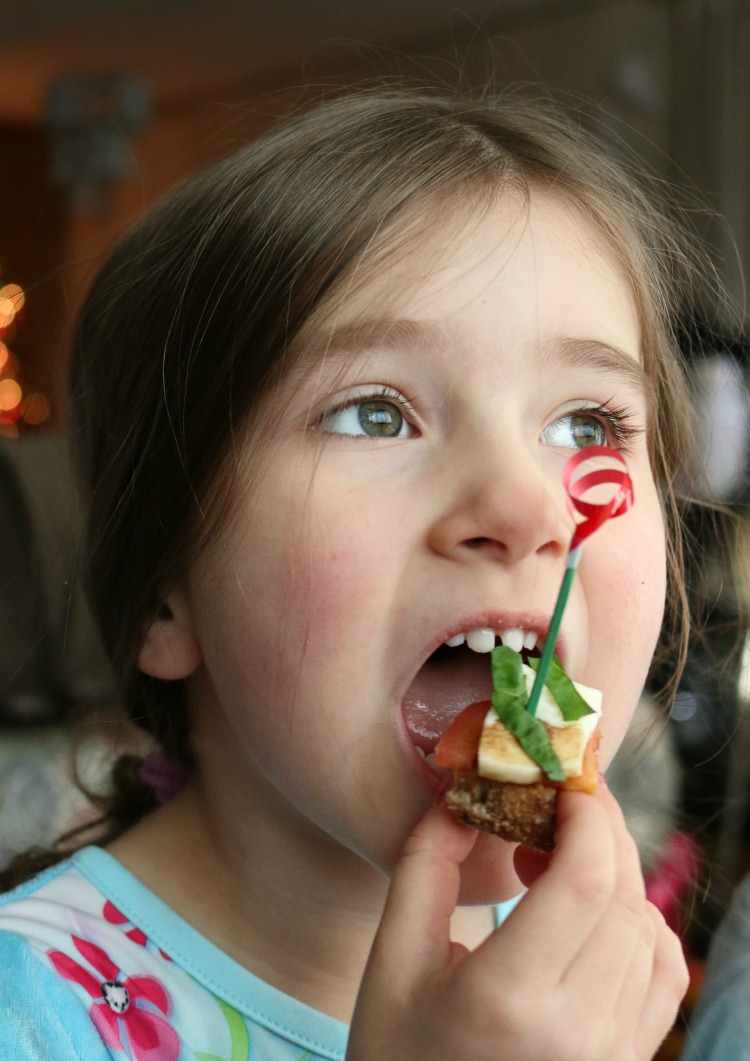 If you want a fabulous caprese salad recipe you have to try this one from my friend at the Salty Side Dish.